markets
Salesforce Slumps on Concern About Potential Twitter Bid
By and
Salesforce stock at seven-month low, while Twitter climbs

Benioff may be quizzed on Twitter interest at Dreamforce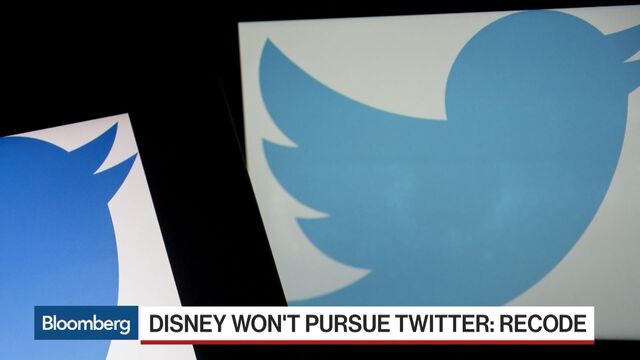 Salesforce.com Inc. shares fell 5.8 percent Wednesday on concern the business software company may make a bid for fallen social media star Twitter Inc.
Salesforce Chief Executive Officer Marc Benioff declined to comment directly on a potential Twitter acquisition during an appearance on CNBC, though he is likely to be asked about it again when he speaks at the company's Dreamforce conference in San Francisco later in the day.
"We look at everything," Benioff said on CNBC, adding it's not a guarantee of what might happen.
"We have to understand what is possible for our shareholders, what isn't," he said. "But in the scheme of things, if you look back at my track record as a CEO, I think that you'll find that while I look at a lot of things, I actually pass on most things."
During a talk with analysts later Wednesday, he made what appeared to be a reference to Twitter as a "great brand" and an "unpolished jewel." He also said he wished "Jack," an apparent reference to Twitter CEO Jack Dorsey, well.
Still, Benioff said that he walks away from most of the deals that he reviews. He also said decisions aren't made in a vacuum, but are made in consultation with other executives and the board, among others.
"We have a highly disciplined process," he said "We would only do a deal if we absolutely felt like" it was the right thing for our shareholders.
Salesforce fell to $68.42 at the close Wednesday, the lowest price since February. Twitter meanwhile has surged as companies including Salesforce, Walt Disney Co. and Alphabet Inc. tapped banks to help them consider an acquisition. Twitter climbed 5.7 percent to $24.87 at the close, the highest price since December, before declining as much as 11 percent in extended trading after the technology news website Recode reported that Alphabet's Google won't bid for the social media company.
Bids for Twitter are due soon, however, and some analysts and investors don't want to see Salesforce in the mix. 
"We remain concerned about management's quest for acquiring Twitter," Abhey Lamba, an analyst at Mizuho Securities USA, wrote in a note to investors Wednesday. "Any deal will likely destroy ~$12-17bn (20-25%) of value, which could take 2-3 years to recapture if all goes well."
Owning Twitter would change the focus of Salesforce, which already has a mixed track record with social media, some analysts said. The 2012 acquisition of Buddy Media, a social marketing company, was "pretty much a complete failure," Kirk Materne, an enterprise software analyst at Evercore, wrote in a recent note to investors. "Twitter would be an extremely risky deal," he added.
Analysts at Stifel wrote an open letter to Salesforce in late September titled "You Don't Need to Buy the Cow."
Falling user growth and a multitude of other platforms available to advertisers may limit the asking price for Twitter. Susquehanna analyst Shyam Patil estimated acquirers may pay $17 to $26 per Twitter share.
"One of the ways we innovated is not just organically, it's also inorganically," Benioff said on CNBC. "When we do these acquisitions we do them with our stockholders in mind."
(
Updates with CEO comments in fifth paragraph.
)
Before it's here, it's on the Bloomberg Terminal.
LEARN MORE