U.S. Stock Buyers Look to Growing Economy as Fed Rate Hike Looms
By
Services industries expansion picks up after August lull

Lenders surge as yields on Treasuries climb after data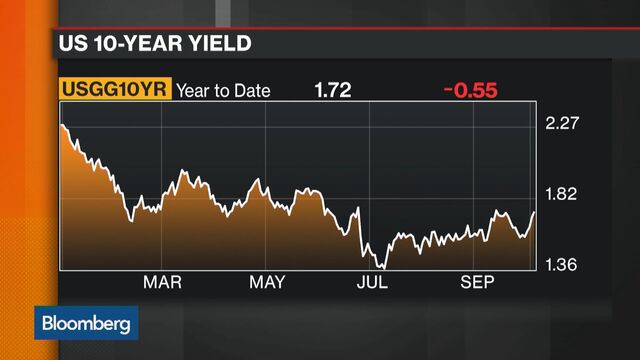 Once again, it's all about the economy.
That's what investors in the U.S. stock market are thinking as the Federal Reserve moves closer to raising interest rates and new data show the world's largest economy strengthening. The S&P 500 Index snapped a two-day drop after reports showing acceleration in the manufacturing and services sectors. While the gauges bolstered the case for higher rates, rallies in homebuilders, truckers and banks overshadowed the angst equity investors normally associate with a looming tightening of monetary policy.

The readings follow recent assurances from Federal Reserve officials that the U.S. is on firmer footing, and a jobs report Friday could cement the central bank's position that the economy is sound enough to withstand higher rates. Today's reports provide relief to investors looking for signs that economic gains will help end five straight quarters of contraction in corporate earnings, said John Augustine, chief investment officer for Huntington Trust in Columbus, Ohio, which oversees more than $17 billion.
"That could give the central bank some freedom to potentially remove some accommodation moving into next year," he said. "Central banks are the source of volatility right now, and we suspect they're going to continue to be the source of volatility in the fourth quarter."
The S&P 500 rose 0.4 percent to 2,159.73 at 4 p.m. in New York, rebounding from a drop Tuesday sparked by concerns tighter monetary policy from Europe to the U.S. could derail economic growth. Odds of the Fed raising rates by December climbed to 63 percent, boosting bank shares that benefit from a steeper yield curve. The Dow Jones Transportation Average of truckers and railroad operators posted its highest close this year. Energy producers jumped as crude approached $50 a barrel.
Figures Wednesday showed factory and durable-goods orders accelerated modestly in August and followed a report on Monday that the Institute for Supply Management's index -- known as the PMI -- advanced to 51.5 from August's contraction-level 49.4 reading. The readings came after data showed car sales were stronger than analysts had estimated in September, suggesting there's still some steam left in the U.S. auto industry's six-year growth spurt.
Nascent improvements in manufacturing help allay concerns about a broader slowdown that would stanch any hope that the recession in corporate earnings will end this year. Rising crude prices have also fed speculation that capital spending in the energy industry will accelerate, benefiting a swath of domestic industries.
Today's data are also a reminder what a difference a year can make. Last October, investors were fretting about a contraction in manufacturing that might spill over into a broader economic slowdown. Those fears were stoked in part by Daniel Florness, Fastenal Inc.'s now-chief executive officer, who said at the time that the industrial segment was in a recession. The concerns weren't wholly unwarranted -- the PMI measure of manufacturing activity slumped to 48 in the December reading, which was the lowest since the financial crisis.
"We're on firmer footing, but by no means are we seeing a meaningful or durable acceleration in manufacturing," said Katie Nixon, chief investment officer of wealth management at Northern Trust Corp. "Thank heavens we got the PMI above 50, so we're not contracting."
Crude rose Wednesday to the highest since June after government data showed U.S. stockpiles dropped last week, sending oil and gas companies to an almost four-week high. ConocoPhillips climbed 2.4 percent and Transocean Ltd. added 5.9 percent. Investors continued to unload defensive shares, with phone companies tumbling to the lowest since May, while utilities extended their losing streak to the longest in 14 years.
U.S. shares overcame anxiety abroad as European stocks slid amid concern that the European Central Bank is moving toward a less accommodative stance. Fed policy makers continued to steer investor expectations toward a December rate increase, with a host of officials calling for tightening as the economy continues to improve. The Dow Jones Industrial Average gained 112.58 points, or 0.6 percent, to 18,281.03. About 7 billion shares traded hands on U.S. exchanges, 6 percent more than the three-month average.
"The Fed has little excuse to not hike," said Brian Jacobsen, chief portfolio strategist with Wells Fargo Funds Management LLC, which oversees $242 billion. "The big excuse is on the inflation front and even there, incremental progress is being made."
Stocks bounced from a rocky start to the month, as the S&P 500 slipped 0.8 percent over the first two sessions. While the gauge has historically been more volatile in October, it's a month in which it posted larger gains in the last 25 years, with an average advance of 1.9 percent. The measure closed Wednesday 1.4 percent below the record it reached in August, bringing its annual gain to 5.7 percent.
— With assistance by Camila Russo
Before it's here, it's on the Bloomberg Terminal.
LEARN MORE