Putin Appeals for Russian Unity in Parliament He Controls
by and
President urges Duma to improve protection for businesses

Lawmakers should back priority projects in budget, Putin says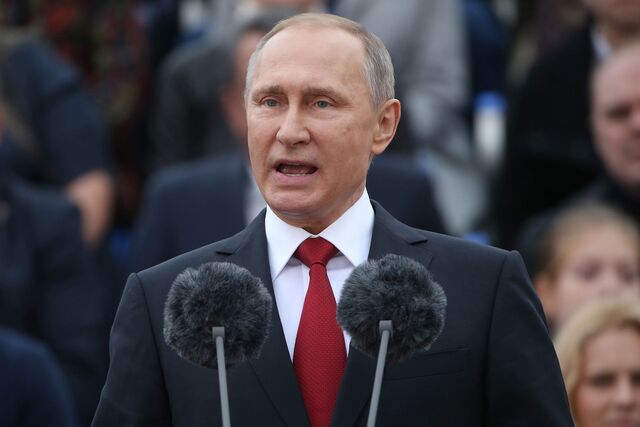 Russia is strong when it is united, President Vladimir Putin told lawmakers amid the country's longest recession of his 17-year rule and a worsening standoff with the U.S. over the war in Syria.
Russia has never imposed itself on anyone and its power lies in the unity of its people, Putin said in a speech lasting only 12 minutes at the opening Wednesday of the newly elected State Duma, in which his United Russia party holds a record 343 of 450 seats. "Of course we need to strengthen the security and defense capability of the country to maintain its position on the world stage," he said.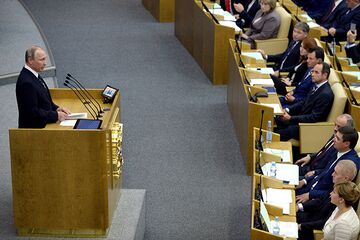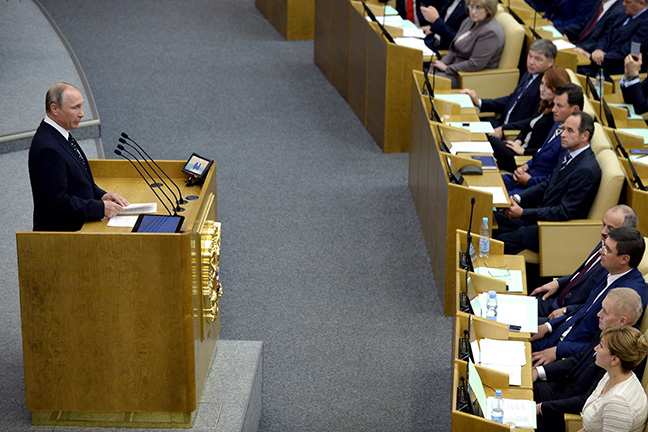 He urged lawmakers to overcome legislative barriers to economic competitiveness and "provide for the financing of priority projects in full" during budget discussions. The lower house of parliament should also strengthen the "legal protection of business from pressure on the part of unscrupulous" law enforcement officers, he said.
Putin's victory in parliamentary elections last month ensured he retains total control over the legislature ahead of the 2018 presidential contest in which he's widely expected to seek a fourth term to rule until 2024. United Russia gained a majority big enough to let the Kremlin change the constitution at will even as the economy labors under a second year of recession that's squeezed incomes and plunged millions of people into poverty.
Plutonium Treaty
Putin made no reference to international tensions in his speech. The Kremlin on Monday ditched a key nuclear disarmament deal with the U.S. to dispose of plutonium stockpiles and submitted draft legislation to the Duma demanding that Washington cut troop numbers in Europe and lift sanctions against Russia as conditions for restoring it.
Relations with the U.S., already strained over Russia's 2014 annexation of Crimea and the conflict in eastern Ukraine, plunged deeper into crisis when the Obama administration on Monday declared an end to bilateral peace talks to secure a cease-fire deal in Syria.
Putin, who turns 64 on Friday, retains high popularity ratings with Russians despite the economic downturn. He benefited from a surge of patriotism after the annexation of Crimea that's continued since he ordered Russia's military to begin a campaign of air strikes in Syria in support of President Bashar al-Assad in September last year.
'Crazy Printer'
The new Duma later elected former Kremlin Deputy Chief of Staff Vyacheslav Volodin, who was Putin's proposed candidate, as its speaker. Putin immediately appointed him as a member of the Russian security council. Volodin oversaw domestic policy at the Kremlin after Putin faced an unprecedented wave of protests over ballot-rigging in 2011 parliamentary elections that continued into 2012 against his return to the presidency.
Opposition activists nicknamed the previous Duma as the Kremlin's "crazy printer" for its tendency to pass legislation swiftly with little oversight, including laws that suppressed dissent and labeled potential critics as "foreign agents."
The new legislature was elected with a turnout of just 48 percent of voters, the lowest for a national election since the collapse of the Soviet Union, as millions stayed away, particularly in Moscow and St. Petersburg, the two largest cities. Half of the deputies were elected from single-member constituencies for the first time since 2003, with the remainder from party lists.
Before it's here, it's on the Bloomberg Terminal.
LEARN MORE