Portugal's Guterres Wins Unanimous Backing to Lead the UN
by
Former prime minister led all rounds in informal voting

Security Council to endorse secretary-general choice Thursday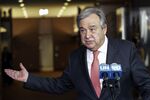 Former Portuguese Prime Minister Antonio Guterres is the unanimous choice of the United Nations Security Council to serve as the world body's next secretary-general.
The 67-year-old former head of the UN's refugee agency will be formally "acclaimed" Thursday as the candidate recommended to the General Assembly, Russian Ambassador Vitaly Churkin, the council's president this month, announced. U.S. Ambassador Samantha Power added on Twitter that the council had united around the choice. The Assembly's approval is considered a formality.
Guterres secured 13 "yes" votes in the 15-member council, with two members undecided, ending nine months of cocktail-party campaigning, formal and informal interviews and visits to capitals. In January, Guterres will succeed Ban Ki-moon of South Korea as leader of the 71-year-old institution with 105,000 peacekeepers deployed around the world and an annual budget of more than $13 billion.
"Guterres faces very serious challenges especially the Syrian civil war and the humanitarian consequences of refugees fleeing that war," said Michael Doyle, a Columbia University professor and a former UN assistant secretary-general. "The international community is divided on important issues and that limits what he can get done."
The former UN high commissioner for refugees emerged as the choice despite the organization's penchant for tradition -- it was argued that it was Eastern Europe's "turn" to lead the UN -- and an active campaign to name the first female secretary-general. The organization has had eight leaders since its founding in 1945.
'Honest Broker'
"I cannot change what I am," Guterres, who has said he has solid track record of promoting gender equality, said in an interview last month with Bloomberg News. "If the decision is that the symbolic value of having a woman is what matters, then choose another person."
Guterres presented himself during the campaign as "an honest broker" who will come down hard on UN peacekeepers accused of rape, a recurring problem that has stained the world body's reputation. He said that fixing the organization requires the protection of whistle-blowers who expose sexual misconduct, corruption and other illegal activity.
During the sixth round of informal voting, the breakthrough was "the performance and experience of the candidate," said Power. "People united around a person who impressed throughout the process and has impressed on multiple axes in his service in Portuguese politics and then, of course, at the helm of UNHCR."
His strongest challenger entered the race at the last possible moment, when Bulgaria nominated Kristalina Georgieva, a European Commission vice president, last week in a last-ditch attempt to derail Guterres. In the end, it was too late. Georgieva received five votes for and eight against, including two from veto-wielding countries.
Guterres will be the first Portuguese secretary-general. Previous UN chiefs have come from Norway, Sweden, Myanmar, Austria, Peru, Egypt, Ghana and South Korea.
Before it's here, it's on the Bloomberg Terminal.
LEARN MORE