Obama Says Paris Deal to Fight Climate Change Taking Effect
By
Accord is the capstone of Obama push to lower carbon emissions

Pact recently hit threshold of ratification by 55 countries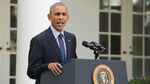 The Paris climate accord negotiated last year has been ratified by enough countries to go into force, a step that will help reduce worldwide carbon pollution and stave off global warming, President Barack Obama said on Wednesday. 
"Today is a historic day in the fight to protect our planet for future generations" Obama told reporters in the White House Rose Garden. "Today, the world has officially crossed the threshold for the Paris agreement to take effect."
The Paris accord is the capstone for Obama's campaign to reduce carbon emissions, blamed for rising global temperatures that are causing environmental damage worldwide. The agreement seeks to limit temperature increases from pre-industrial levels to "well below" 2 degrees Celsius, and it entered into force after hitting a threshold of ratification by 55 countries accounting for 55 percent of global emissions. The European Union, with 28 nations accounting for 12 percent of global emissions, approved the deal this week.
The deal takes effect 30 days after meeting the ratification threshold.
Obama and Chinese President Xi Jinping, whose countries are the world's two largest emitters of carbon pollution, ratified the Paris climate agreement last month. China and the U.S. together account for about 38 percent of global emissions. Because the accord is not a treaty, U.S. ratification did not require a vote by the Senate, where Republicans mostly oppose the agreement.
Best Shot
"This gives us the best possible shot to save the one planet we've got," Obama said of the deal.
House Speaker Paul Ryan, a Wisconsin Republican, said that Obama had "again acted unlawfully" by not submitting the agreement to the Senate for a ratification vote, and said it would damage the U.S. economy by reducing fossil fuel extraction, a major source of carbon pollution.
The deal "carelessly throws away the great gains that the United States has made over the past decade in energy development," Ryan said in a statement. "The abundant, low-cost energy that we have unlocked will now be shut in the ground, eliminating the economic growth and jobs that come with development."
More than 190 parties joined the agreement when it was first signed in December, but it wasn't clear how quickly each country would ratify the deal.
While Republican presidential nominee Donald Trump has pledged to "cancel" and renegotiate the Paris agreement if he wins election, that is more difficult now that the deal has entered into force. The U.S. is now bound to participate for at least four years, and an international organization will begin to track progress reducing emissions by countries that have ratified the agreement, including the U.S.