North Face Owner Will Elevate Its Operating Chief to CEO Role
by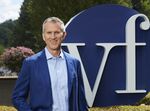 VF Corp. will hand the reins to Chief Operating Officer Steve Rendle next year, turning to an executive who previously ran the apparel company's North Face brand.
The 57-year-old will take the chief executive officer job on Jan. 1, the company said on Wednesday. He succeeds Eric Wiseman, 60, who will remain executive chairman of the board.
Rendle takes the helm at a time of shaky demand for apparel and sluggish traffic at many U.S. malls. VF Corp.'s stock is down almost 10 percent this year, hammered by concerns that consumers are pulling back on spending.
But athletic apparel has generally been a bright spot for the clothing industry, and that's where Rendle made his mark. He started at the North Face in 1999 and served as president of the business from 2004 to 2011. Rendle ascended to the operating chief role last year and also joined the board in 2015.
"We've been working since 2008 to identify and prepare the right person to succeed me when the time comes," Wiseman said in the statement. "That time is now."
The Greensboro, North Carolina-based company owns more than a dozen brands, including Jansport, Lee, Nautica, Timberland and Vans.
Before it's here, it's on the Bloomberg Terminal.
LEARN MORE