Negative-Yield Contagion Spreads as Draghi Mania Moves East
by and
Bonds with sub-zero rates expand fivefold to 47 billion euros

Convergence with West means investors ignore emerging label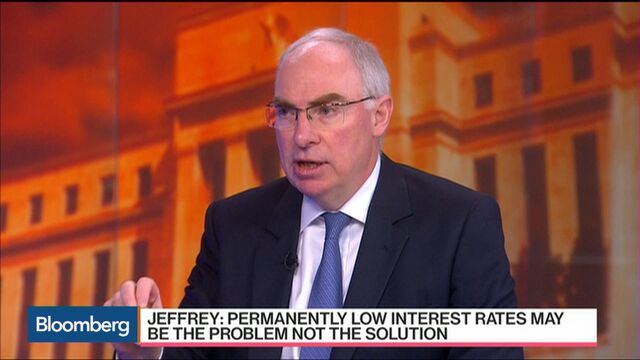 Think of the nations whose bonds yield less than zero, and Japan, Switzerland, Germany and France jump to mind.
Yet there is a group of much poorer, ex-communist, countries that also get paid by investors eager to park their cash with them. Government debt from developing Europe trading at negative rates has swelled more than five-fold over the past 12 months, and countries that have benefited include the Czech Republic, euro members Latvia, Lithuania, Slovenia and Slovakia, as well as Poland and Romania.

The spreading of sub-zero yields is testament to how the European Central Bank's bond-buying policy has reverberated throughout the continent, while illustrating the economic and political progress of the nations that shed communism 27 years ago. European Union accession has strengthened trade and financial ties with richer western nations and fostered fiscal responsibility, leaving most new members with lower debt than those in Germany or France. 
"Investors are no longer treating these countries as pure emerging markets -- the distinction has become less and less relevant in Europe," said Regis Chatellier, director of emerging-markets credit strategy at Societe Generale SA in London. "What we see right now in central and eastern Europe is the direct consequence of ECB policy."
While the ECB is said to be considering a way to end its bond buying, the effect from the purchases is being felt across the continent and beyond, pushing investors into assets with higher -- or at least less negative -- returns.
For more on ECB President Mario Draghi's bond buying program, click here.
Almost 47 billion euros ($52 billion) of eastern European sovereign notes maturing in 12 months or more had negative yields at the end of September, up from 8.3 billion euros a year earlier. The ECB has been directly buying securities of countries including Latvia, Slovenia and Slovakia along with other euro nations, helping send their rates on two-year notes to less than minus 0.2 percent, all below the yield for similar-maturity Italian debt.
Non-euro countries are also feeling the pull. The Czech Republic has scored the lowest rates as it gets an extra boost from speculation the koruna will gain once the central bank lifts its cap, probably next year. The government sold 13 billion koruna ($541 million) of bonds on Wednesday, including notes due in July 2019 priced to yield minus 0.42 percent on average. That compares with minus 0.68 percent for similar-maturity German bunds.
Borrowing costs have also dropped into negative territory for Poland, with the yield on its 2 billion euros of bonds due June 2018 falling 40 basis points in the past 12 months to minus 0.33 percent. The rate on similar-maturity Eurobonds from Romania has decreased 81 basis points to minus 0.07 percent.
Before it's here, it's on the Bloomberg Terminal.
LEARN MORE