Mylan Accused by U.S. of Overcharging Medicaid for EpiPen
By
Company owed bigger discounts on EpiPen, government says

Mylan says its discounts were consistent with federal guidance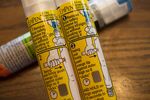 Mylan NV has been overcharging the U.S. for years on its EpiPen allergy shot, a government agency said, as two lawmakers accused the drugmaker of "bilking" taxpayers.
The government's allegations, disclosed in a letter from the Centers for Medicare and Medicaid Services Wednesday afternoon, added to Mylan's woes over EpiPen's rising prices. Analysts estimate the company may have made hundreds of millions by misclassifying the device under complex Medicaid pricing rules. If it turns out the allergy pen was wrongly classified as a generic drug -- enabling Mylan to pay a lower rebate rate than Medicaid requires for brand-name drugs -- it could be costly for the company.
The government has, in the past, "expressly told Mylan that the product is incorrectly classified," the Centers for Medicare and Medicaid Services, or CMS, said in the letter, which came in response to an inquiry by Congress. "This incorrect classification has financial consequences for the amount that federal and state governments spend because it reduces the amount of quarterly rebates Mylan owes for EpiPen."
Shares Fall
EpiPen has been wrongly classified as a generic treatment since 1997, according to CMS. Mylan, which acquired EpiPen in 2007, denies it acted improperly.
Mylan's shares fell 3.4 percent to $36.73 at 2:28 p.m. in New York Thursday. They have slumped 24 percent since Aug. 19, before the furor over EpiPen's price took off, and are trading at their lowest levels since 2013.
Hundreds of millions of dollars in sales are at the center of the Medicaid dispute. From 2011 to 2015, the joint state-federal program for the poor spent about $797 million on EpiPens, CMS said in its letter. That included rebates of about 13 percent, while the U.S. should have been getting a larger discount of at least 23.1 percent, according to the letter.
"It is a bit premature to judge if Mylan is guilty here," Ronny Gal, an analyst at Sanford C. Bernstein & Co. who rates the stock the equivalent of a buy, said in a note to clients. "The company is in the hot seat and it is a bit convenient that CMS decides after 19 years that Mylan has been wrong all along."
Gal estimated that Mylan might owe as much as $607 million in additional rebates back to the government, if it were found to have wrongly classified the drug. His estimate doesn't include any damages that may be assessed. The False Claims Act, which is mentioned in the CMS letter, imposes treble damages on any person who knowingly submits false claims for federal funds.
Non-Innovator
Nina Devlin, a Mylan spokeswoman, said in an e-mail that EpiPen's classification as non-innovator, or generic, "is consistent with longstanding written guidance from the federal government." EpiPen was classified as a non-innovator drug before Mylan acquired the product, she said.
"Mylan simply continued to classify the product the same way it had been classified before Mylan acquired the product," Devlin said in her e-mail.
In its letter, the agency didn't say exactly how much Mylan had underpaid. Companies are required to give Medicaid back any price increases they take on branded drugs above the rate of inflation, in addition to the standard discount. Because Mylan's price increases have far exceeded inflation in recent years, if EpiPen were reclassified as a brand-name drug, it might have to discount most of the price to Medicaid.
Penalties
The Department of Health and Human Services inspector general has imposed penalties of $10,000 per drug per day on companies that have knowingly or unknowingly provided untimely drug pricing information, said Donald White, a spokesman for the inspector general. Drugmakers usually settle, he said.
Public outcry over the price of EpiPens, which rose six-fold since 2007 to about $600 for a package of two, has sparked inquires from lawmakers and law enforcement officials, and Chief Executive Officer Heather Bresch was harshly criticized by representatives at a Congressional hearing last month.
Two lawmakers, Senator Ron Wyden, an Oregon Democrat, and Representative Frank Pallone, a Democrat for New Jersey, had called for an investigation of Mylan's adherence to the Medicaid rules.
"Today's letter is more evidence that while Mylan irresponsibly raised the price of EpiPen, they were also bilking taxpayers out of millions of dollars," they said in a statement Wednesday responding to the CMS letter. "We will ensure taxpayers get their due."
Public Outrage
As public outrage over EpiPen's price exploded in late August, Mylan responded by creating a savings card that would cover up to $300 of out-of-pocket costs for patients who need EpiPen. Under the law, though, the savings card cannot be used by patients in federal programs like Medicaid.
Mylan, which is run from Canonsburg, Pennsylvania, but has a legal address in the Netherlands, also said in late August that it would introduce a generic version of EpiPen that it would sell for $300 for a two-pack. It has not yet introduced the generic, which it now says will be out by the end of the year.
Last month, three senators asked the Department of Justice to consider investigating whether Mylan violated the law when it classified EpiPen under Medicaid. In a Sept. 28 letter to Attorney General Loretta Lynch, Senator Richard Blumenthal, a Connecticut Democrat, Senator Charles Grassley, a Republican from Iowa, and Senator Amy Klobuchar, a Democrat from Minnesota suggested that the company "may have knowingly misclassified EpiPens."
The Department of Justice said in a statement that it has various criminal and civil remedies that it may pursue against a company that defrauds federal health care programs such as Medicaid, including the civil False Claims Act, which imposes treble damages and penalties on any person who knowingly submits false claims for federal funds. Nicole A. Navas, a DOJ spokeswoman, declined to comment specifically about Mylan.
(An earlier version of this story corrected the amount that the Senators said that Mylan overcharged the government.)
— With assistance by Anna Edney, David McLaughlin, and Zachary Tracer
Before it's here, it's on the Bloomberg Terminal.
LEARN MORE