May Stirs Concern Brexit Comes Before Business for Conservatives
by
Focus on immigration suggests less single market access

Prime Minister wraps up Tory Party conference on Wednesday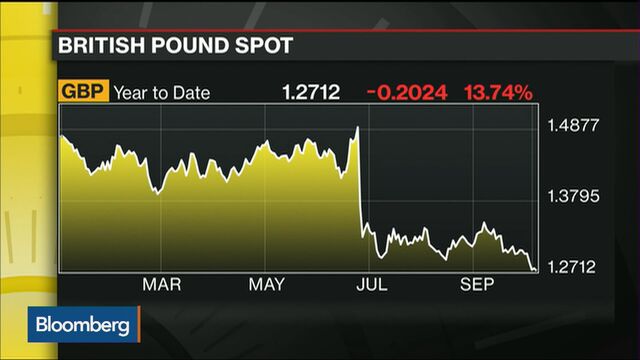 Just before Theresa May replaced David Cameron, the new U.K. leader warned she would steer a change in the Conservative government's attitude to corporations.
Back in July, her pitch was: "We need to get tough on irresponsible behavior in big business." As she closed the Tory Party conference on Wednesday, she made clear she was serious, pledging to turn Britain into a country "in which the powerful and the privileged no longer ignore the interests of the people."
Follow @Brexit for the latest news, and sign up to our Brexit Bulletin for a daily roundup.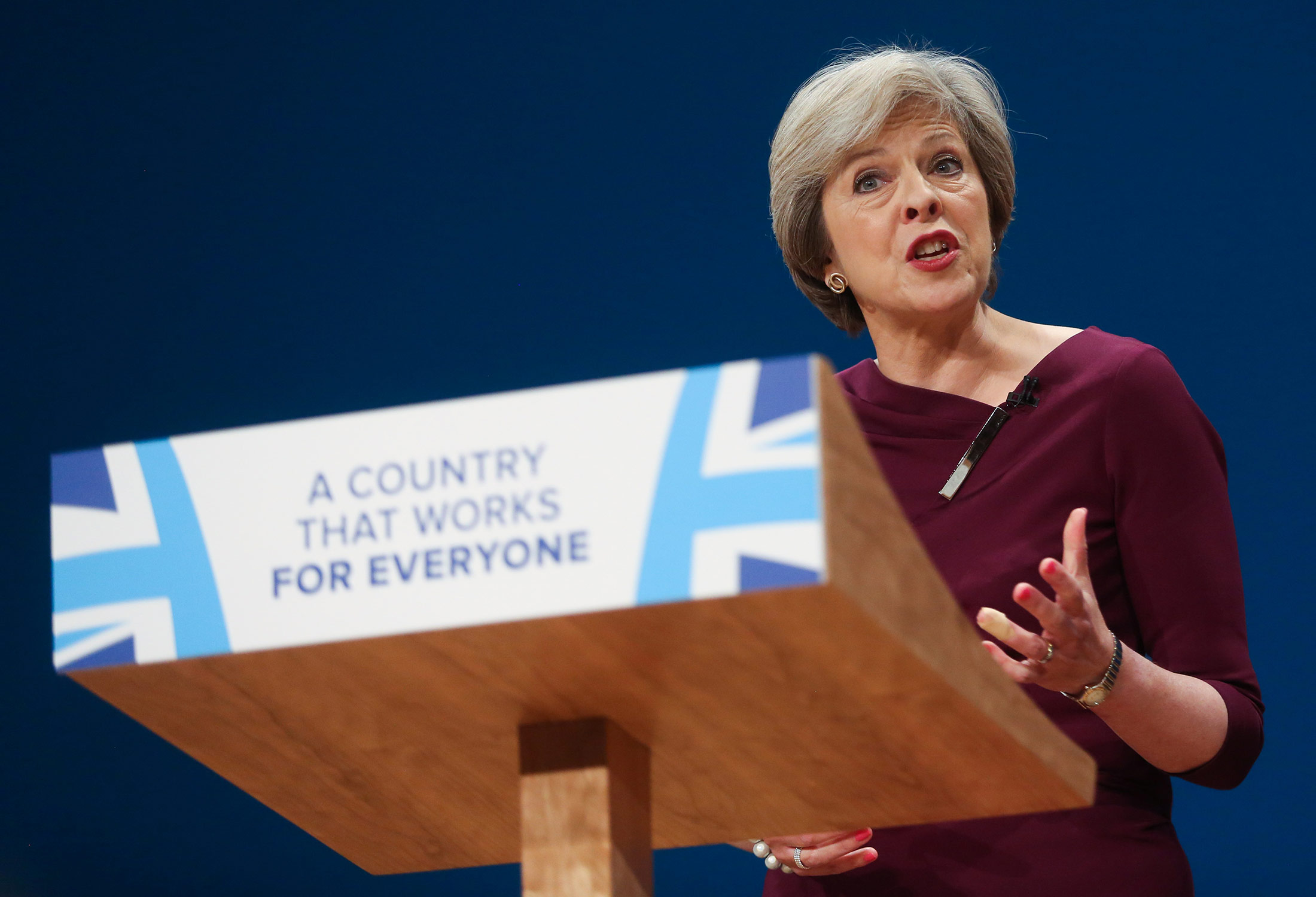 As Chancellor of the Exchequer Philip Hammond prepares to meet with Wall Street executives on Thursday, he'll have to contend with a sense there's a shift in tone coming from a party that took pride in being pro-business. May announced a review of employment practices and peppered her speech with specific corporate practices she wants to end.
"If you're a boss who earns a fortune but doesn't look after your staff; an international company that treats tax laws as an optional extra; a household name that refuses to work with the authorities even to fight terrorism; a director who takes out massive dividends while knowing that the company pension is about to go bust," May said, "I'm putting you on warning."
Click here to read about the Conservative Party's full embrace of Brexit.
The message seems to be that the government is ready to disappoint businesses seeking comprehensive access to the EU single market. May tried to soften the blow by saying that Tories "will always be the party of businesses." In New York, Hammond will meet with top bankers from Citigroup Inc, Morgan Stanley and Goldman Sachs Group Inc. to try to reassure them that financial services based in London will still have good access to European markets.
While May didn't name companies, Google Inc., Apple Inc. and Starbucks Corp. have faced scrutiny over their U.K. tax practices, while Twitter Inc. and Facebook Inc. have been flagged as failing in their duty to block extremist content that promotes terrorism. Lawmakers have raised questions about the pension deficit at the now-defunct retailer BHS and admonished Sports Direct International Plc's billionaire founder, Mike Ashley, for presiding over "appalling" working conditions.
With the Confederation of British Industry calling for more clarity on the shape of a post-Brexit deal, May's response to those seeking to pressure her was that she wouldn't be providing a "running commentary."
City Concerns
Concerns are growing at banks in London's financial district, where thousands of jobs could be at stake if Britain loses passporting rights that enable firms to sell financial products throughout the EU. Three senior officials in May's administration told Bloomberg that May won't prioritize the protection of the financial services sector in the discussions and that it shouldn't expect any of the special attention it enjoyed under her predecessor.
"Theresa May is undeniably trying to distance herself from the establishment and the 'chumocracy"' of Cameron and former Chancellor of the Exchequer George Osborne, said Andrew Russell, professor of politics at Manchester University.
By taking a tough stance on immigration, May is reaching out to the 52 percent who chose to leave the EU. Resentment had been bubbling over an open door policy that allows free movement of labor within the 28-nation bloc, with voters saying that it put an unsustainable strain on schools, jobs and social benefits.
"She's taking her marching orders from the side that won the referendum rather than the side that lost, and business was largely on the side that lost," John Curtice, professor of politics at Strathclyde University, said in an interview.
Red Lines
May has drawn the battle lines for the divorce. She has vowed to trigger the process by March and sent a strong message that immigration limits are paramount. On Wednesday, a senior aide to Brexit Secretary David Davis listed three other "key red lines" for the U.K.: freedom from the jurisdiction of EU judges, no contributions to the EU budget, and independence in lawmaking.
"May is starting the negotiation from a tough line," Bank of America Merrill Lynch economists said in a note to investors. Her desire for immigration control and freedom from EU courts "seem to mean" she is contemplating a so-called hard Brexit, the report said.
In a blow to companies reliant on foreign talent, Home Secretary Amber Rudd on Tuesday unveiled an series of measures aimed at making it harder to employ people from overseas as she stuck by a pledge to bring net migration down to below 100,000 a year.
Immigration Limits
"It is clear that immigration will continue to be a major bone of contention between companies and this government," said Seamus Nevin, head of employment and skills policy at the Institute of Directors. "Businesses know that the EU referendum result means change to free movement of workers from the EU, but people were not voting to make the economy weaker."
The business world were put on guard back in July that May intended to make a break with the Cameron era. One of her selling points was to address the "unhealthy and growing gap" between the pay of corporate bosses and their workers. On Wednesday, she said her government will lay out plans later this year to include consumers and workers on company boards.
Banks Rebel
The pushback has already begun.
"The task ahead is to make the big decisions that matter to our future, whilst avoiding populist measures that may have adverse consequences for business investment or job creation," said Adam Marshall, acting director general at the British Chambers of Commerce. "In a period of historic change, business communities all across the U.K. need to feel supported, not alienated."
But with an eye to elections down the line, May is keeping her finger on the pulse of the nation, and reaching out to the working classes that traditionally back the opposition.
"The party will always want to engage with business, but what the emphasis is on now is talking not just with big business and people who are very influential, but people right across the board," Conservative Party Vice Chairman Stuart Andrew said in an interview in Birmingham. "The discussions we have with business are important, but so are the discussions with other people."
Before it's here, it's on the Bloomberg Terminal.
LEARN MORE