May Says Unorthodox Monetary Policy Had Some 'Bad Side Effects'
by
Prime minister says people with assets benefited more

U.K. must invest better to improve fairness, economy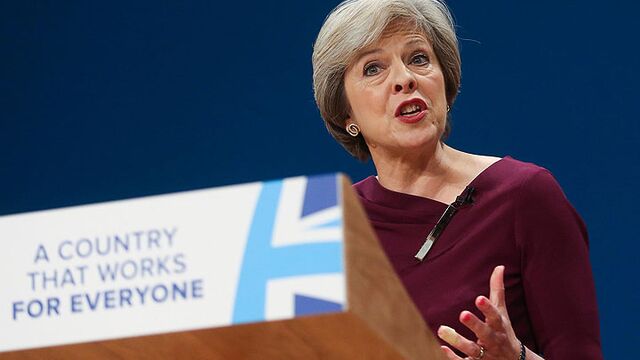 U.K. Prime Minister Theresa May said central banks and their ultra-loose monetary policies helped to widen inequality and vowed her government will act to reverse that course.
In her closing address to the Conservative Party conference Wednesday, May acknowledged that policy action had been needed to deal with the economic fallout of the financial crisis in 2008, but said it hadn't benefited everyone to the same degree.
Follow @Brexit for the latest news, and sign up to our Brexit Bulletin for a daily roundup.
"There have been some bad side effects," she told Tory delegates in Birmingham, central England. "People with assets got richer, people without them have suffered, people with mortgages have found their debt cheaper, people with savings have found themselves poorer. A change has got to come and we are going to deliver it."
Central banks globally have been criticized for keeping interest rates at record lows for too long, undermining savers, weakening banks and widening pension deficits. Bank of England Deputy Governor Ben Broadbent on Wednesday said that larger global economic forces, rather than domestic monetary policy, were the main driver of the decline in long-term real interest rates. In an interview with the Financial Times last month, fellow policy maker Michael Saunders also rejected the criticism, saying the benefits of easing still outweigh the side effects.
'Burning Injustice'
In comments issued after the speech, May's office said the prime minister will "put her government at the service of those who have found themselves poorer as a result of monetary policy."
May, who promised to fight "burning injustice" in her first comments after taking office in July, told the party gathering that everyone must get a "fair share."
"We must continue to aim for a balanced budget," she said. "But to build an economy that works for everyone, we must invest in the things that matter, the things with the long-term return. That's how we will address the weaknesses in our economy, improve productivity, increase economic growth and ensure everyone gets a fair share."
Before it's here, it's on the Bloomberg Terminal.
LEARN MORE