Keith Olbermann's Guide to Career Success—On Your Own Terms
This week on Game Plan: An infamous bridge burner talks about succeeding despite his bad reputation
by and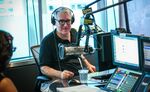 You spend more time at your job than anywhere else. Hosts Rebecca Greenfield and Sam Grobart take a close look at the way we live our lives at work—our frustrations, dilemmas, habits, and anything else that happens in the office.
 Keith Olbermann has a habit of abrupt exits from some pretty high-profile professional gigs. "He didn't burn bridges here, he napalmed them," Mike Soltys, an ESPN executive, said after the commentator left the network for the first time back in 1997. Even so, despite leaving on atrocious terms, Olbermann returned to ESPN not just once, but twice. That's what's so remarkable about his career: Olberman manages to get hired back by the very places he publicly pilloried. How does he do it?
This week, Olbermann joins Sam and Rebecca to talk about how he succeeds on his own terms. Olbermann, who left ESPN for the second time last year is back again, this time with a new web series, "The Closer," over at GQ. He talks with Sam and Rebecca about his workplace philosophies and how they've served him through what many would consider an extremely successful career.
Before it's here, it's on the Bloomberg Terminal.
LEARN MORE