Jamie Dimon Made One of the Year's Best Trades
A big bet on his own company pays off.
By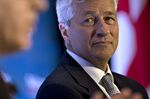 It was perfectly timed.
Back on February 11 of this year, Jamie Dimon, the Chairman and Chief Executive Officer of JPMorgan Chase & Co., made a highly publicized purchase of 500,000 shares of his own company's stock, worth about $26.6 million at the time. The stock ended up hitting a bottom that day and has surged more than 25 percent since then.
Those 500,000 shares are now worth $33.85 million, gaining $7.25 million in value. The company's stock is now very close to a 52-week high that was set last November.

At the time, Bloomberg News reported that Dimon made the purchase because he believed the stock to be cheap following the worldwide decline in equities that started the year. Just before Dimon made his purchase, JPMorgan shares dropped 20 percent and were hitting new two-year lows. The same day Dimon made his purchase, shares surged 8 percent and haven't looked back.
Other global banks including Citigroup Inc., Bank of America Corp., Credit Suisse Group AG and Deutsche Bank AG were also struggling at the time, but not all of them have seen the same type of comeback. Bank shares have been on more solid footing in recent weeks on hopes of a cyclical recovery and a steeper yield curve.
Before it's here, it's on the Bloomberg Terminal.
LEARN MORE