markets
Investors Hungry for Yield Pile Into Biggest Gold-Mining ETF
By
VanEck index's quarterly investment surge highest since 2011

Newmont top picks for Credit Suisse, Goldman on dividend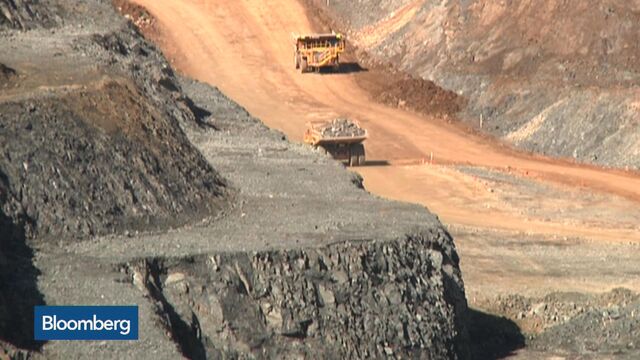 Investors in exchange-traded funds that track gold producers are keeping the faith, even as the metal's rally shows signs of fading.
On Tuesday, as gold sustained the biggest loss in almost three years, investors still poured into exchange-traded funds backed by the metal. About $350 million went into the VanEck Vectors Gold Miners ETF, the third-largest daily investment this year. The fund, the biggest ETF tracking bullion producers, is forecast to boost its dividend by half to 17.4 cents a share in 2016, according to data compiled by Bloomberg.
The ETF demand comes after miners cut costs, lowered debt and boosted their productivity to survive three years of falling gold prices. Now, with better balance sheets, producers including Newmont Mining Corp. are a good bet for improved returns going forward, according to Credit Suisse Group AG and Goldman Sachs Group Inc. That's key at a time when the average earnings of S&P 500 companies is falling.
"People have woken up to the fact that we have arguably passed the trough in the commodities cycle and things are looking better," especially for gold producers, said Clive Burstow, lead mining-fund manager at Barings in London. Mining companies "understand that we are in a world where investors are hunting for things like yield. And if they can pay a sustainable dividend, that would attract investors to their shares."

Gold futures for December delivery slipped 1 percent to $1,256 an ounce at 11:32 a.m. on the Comex in New York. The metal dropped 3.3 percent on Tuesday, the biggest loss since December 2013. Prices are down almost 9 percent since a July peak as expectations for tighter monetary policy in Europe and the U.S. dent the appeal of the metal.
Bullion prices have jumped 18 percent since the year began. On average, major producers tracked by Bloomberg Intelligence have halved their net debt as a proportion of their earnings before interest, tax, depreciation and amortization in the past two years. A measure of cash costs has fallen by 26 percent since June 2013 while pretax margins more than doubled in the second quarter from the previous three months.
All this comes as yields on more than $11 trillion in government and corporate debt in the Bloomberg Barclays Global Aggregate Index of investment-grade bonds have fallen below zero. While gold futures dropped 0.3 percent in the third quarter, Goldman said the steps taken by producers to shore up their operations mean they remain attractive.
The spread between the estimated dividend yield of companies on the S&P 500 Index and the BI Global Senior Gold Valuation Peers narrowed to 1.1 percent, from 1.61 percent in February, according to data compiled by Bloomberg. Meanwhile, both Goldman and Credit Suisse over the past two weeks have flagged prospects for higher dividends among gold-mining companies.
"Investors are hungry for yield," and an increase in dividends may provide the catalyst for shares to move higher, Goldman analysts said in a Sept. 21 report.

The VanEck Vectors Gold Miners has risen about 66 percent this year, delivering the best return of all equity ETFs tracked by Bloomberg with a market value of at least $5 billion. Among the fund's biggest holdings are Barrick Gold Corp. and Newmont, the largest producers by market value.
After posting the best first half since its inception in 2006, the ETF declined in the third quarter as funds cashed in gains on concern the Federal Reserve will raise interest rates, curbing the investment appeal of non-interest bearing gold. At the same time, longer-term investors took advantage of a price pull-back by boosting holdings 20 percent, pouring in $1.9 billion into VanEck Gold Miners, the most since the $2.3 billion in 2011, when prices of the precious metal climbed to a record, data compiled by Bloomberg show.
Still, even with the cost cuts, miners' prospects depend heavily on the outlook for gold prices, and a continued decline would hurt the companies' balance sheets and drag valuations lower, said Dan Denbow, a portfolio manager at the $782 million USAA Precious Metals & Minerals Fund in San Antonio.
"If gold goes down, you're going to lose more than just the dividend," Denbow said in a phone interview. "When they're buying gold miners, they're thinking it's going to go higher. That could be the only bet."
Mariann Montagne, a senior analyst and portfolio manager at Gradient Investments who helps oversee $1.1 billion, is counting on a rally in major gold producers and the precious metal to expand, even as she exited her holdings in another ETF tracking junior miners before the end of June.
"We rebalanced our portfolio, but we left that part intact," Montagne said in a telephone interview, referring to the VanEck ETF that tracks the senior producers. "We thought we'd just ride that a little longer."
— With assistance by Wendy Soong, and Aoyon Ashraf
(
Updates prices in fifth paragraph.
)
Before it's here, it's on the Bloomberg Terminal.
LEARN MORE