India Border Violence Casts Shadow on Pakistan Sukuk Sale
By , , and
Pakistan issues $1 billion of five-year sukuk at 5.5 percent

'Political risk is flashing red right now,' Pheim Asset says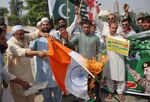 Pakistan borrowed $1 billion in the global sukuk market at 5.5 percent just as violence on its disputed border with India casts a shadow on an improving economic outlook.
The government got bids for $2.4 billion as it sold five-year Islamic securities, Finance Minister Ishaq Dar told a briefing in Islamabad, adding that military tensions impacted the issue. Yields on its 2019 sukuk sold two years ago rose as much as 51 basis points to 4.99 percent on Tuesday, before declining today to 4.84 percent, after militants killed 19 Indian soldiers in the Kashmiri town of Uri last month and India retaliated against what it called terrorist camps. Pakistan denied involvement in terror and described the counter strikes as a heavy exchange of fire.
"Political risk is flashing red right now," James Lau, a Kuala Lumpur-based investment director at Pheim Asset Management Sdn., said before the sale. "That said, there would still be buyers for the debt."
The world's second-most populous Muslim nation tapped a global Islamic debt market hungry for higher yields after international sukuk issuance slumped in the third quarter to $2.5 billion from $6.9 billion in the previous three months. The country has averted a balance-of-payments crisis, allowing it to exit a 2013 International Monetary Fund loan program worth $6.6 billion last month. Growth has accelerated, inflation eased and domestic security threats abated.   

Pakistan, which is rated the fifth-highest junk grade of B by Fitch Ratings, raised $1 billion through the sale of five-year global Islamic bonds at 6.75 percent in November 2014, in its first such issuance since 2005. That offering was five times oversubscribed.
"If you look at the macroeconomic indicators of Pakistan, compared to 2014, we are a lot better off," said Mustafa Pasha, head of investments at Lakson, which manages $250 million.
Internal Security
Pakistan's internal security has improved in recent years due to an army push against insurgents after a massacre of more than 100 students in 2014 in the northern city of Peshawar. About 449 people died in terrorist-related attacks last year, the fewest in 10 years, according to the South Asia Terrorism Portal.
Tensions with India "will be short-lived," said Sajjad Anwar, the Karachi-based chief investment officer at NBP Fullerton Asset Management Ltd., which oversees about $640 million. "It's not in the interest of both the nations to escalate the tensions because both need their economies to improve."
While Pakistan's economic outlook has improved, the prospect of an increase in U.S. interest rates will push up yields, said Faizan Saleem, a fund manager at ABL Asset Management Co. in Karachi, which oversees the equivalent of $373 million.
The Asian Development Bank upgraded its growth forecasts for Pakistan last week as record foreign-exchange reserves and a narrowing fiscal deficit brighten the outlook for the $270 billion economy. Prime Minister Nawaz Sharif is targeting 5.7 percent expansion in gross domestic product for the year which began July 1, the fastest in a decade.
"Pakistan's positives were driven by the story of successful reforms with the IMF," said Fakrizzaki Ghazali, a senior fixed income analyst at Sedco Capital in Jeddah. "Nonetheless, fiscal constraints and geopolitical risks of Pakistan remain a long term challenge which should limit fundamental upside in the near to medium term."
Before it's here, it's on the Bloomberg Terminal.
LEARN MORE