Hammond Travels to New York to Reassure Banks Over Brexit
by
Chancellor to meet Wall Street Leaders amid hard Brexit fears

British-based banks stand to lose $51 billion, report says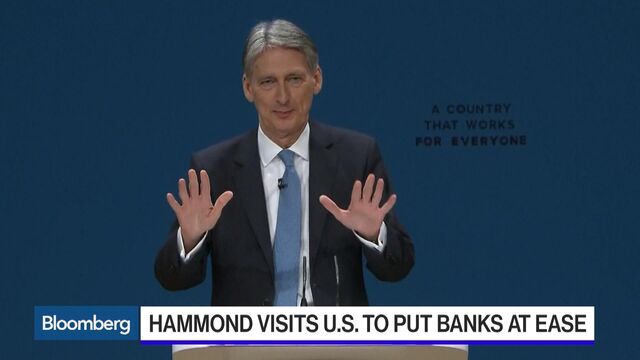 Chancellor of the Exchequer Philip Hammond will tell Wall Street executives on Thursday that he's determined to safeguard the City of London as concerns mount that leaving the European Union could prompt banks to move jobs and operations out of Britain.
On his first visit to the U.S. since replacing George Osborne in July, Hammond will meet with banks including Citigroup Inc., Bank of New York Mellon Corp., Morgan Stanley and Goldman Sachs Group Inc. He is set to tell them that he wants a Brexit deal that secures good access to European markets for financial-services companies.
"While the government has not finalized its future approach to our relations with the EU, the government's position is clear; we want the best deal for trade in U.K. goods and services," Hammond said in a statement released by the Treasury. "I will do everything I can to ensure the City of London retains its position as the world's leading international financial center."
To watch a Bloomberg interview with Chancellor of the Exchequer Philip Hammond at 2:15 p.m. London time, click here.
His visit comes days after an industry report warned that a so-called hard Brexit could result in the loss of almost 40 billion pounds ($51 billion) of revenue for banks and associated businesses based in the U.K, should they fail to receive passporting rights or special status in negotiations.
The financial-services sector, which accounts for 12 percent of U.K. economic output and 1.1 million jobs, will receive no special favors in Brexit negotiations from Prime Minister Theresa May, according to three senior figures within her administration.
Red Lines
May has put a heavy emphasis on ending free movement of people from the EU, a sign she is ready to disappoint businesses seeking comprehensive access to the single market. Home Secretary Amber Rudd has also vowed to make it harder for foreigners to work in the U.K. That will almost certainly alarm banks, which rely on easy access to talent from overseas. 
After his talks in New York, Hammond will head to Washington for the International Monetary Fund and World Bank meetings.
Before it's here, it's on the Bloomberg Terminal.
LEARN MORE