Goldman Sounds a Warning on China Property, Outlook for Metals
By
Policy-driven 'booms tend to be followed by slumps,' bank says

'Our analysis points to risks for metal prices,' Goldman warns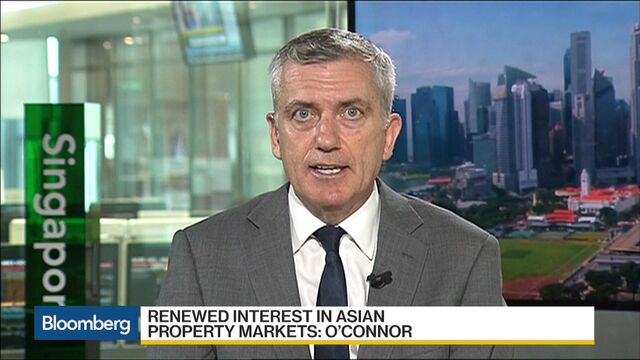 Goldman Sachs Group Inc. has sounded a warning about the outlook for China's property market, saying it sees growing risks across the industry and that any downturn will pose a challenge for metals, especially iron ore and steel.
"We see growing vulnerability in the Chinese property market," the bank said in a commodities report, citing possible overbuilding, concern some people now can't afford homes and rising speculation. "Policy-driven housing booms tend to be followed by slumps due to the payback effect," it said.

Policy makers in Asia's largest economy boosted credit to support growth earlier this year, spurring gains in sales volumes and property prices in cities across the country. The pickup in activity helped to support a rally in metals prices, with the LMEX Index of six metals advancing into a bull market last week. The surge has also supported a jump in iron ore.
"Our analysis points to risks for metal prices," Goldman said in the Oct. 4 note that was entitled "China housing: when good news becomes bad news." The New York-based bank added: "Because housing is a durable good and depreciates very slowly, overbuilding and excess inventory tend to exacerbate the downturn when demand suddenly falls."
Metals Rally
Iron ore has rallied 28 percent in 2016, snapping three years of declines, and was at $55.86 a dry metric ton on Wednesday, according to Metal Bulletin Ltd. All six base metals have risen on the London Metal Exchange this year, with zinc surging more than 45 percent, tin 36 percent and lead 16 percent.
The upswing in China's property market has prompted concern there may be a bubble, with Deutsche Bank AG supporting that view in a recent assessment. Goldman said while gains in prices hadn't been spread evenly, it did describe some as "extreme," citing a 50 percent annualized advance in Shenzhen.
The bank highlighted three concerns, including the so-called payback effect, in which spikes in demand after stimulus were followed by significant declines. First, it said because easing tended to bring forward demand rather than boosting overall consumption, it risked the buildup of too many homes. "If demand weakens in these cities, the supply overhang will likely take a long time to be absorbed," it said.
'Out of Reach'
Second, Goldman said after the jump in prices affordability had worsened considerably in many places. "Buying a home is out of reach for many working-class families and very-high property values, if they persist, are likely to dampen construction activity over the longer term," it said. Thirdly, there was increased property speculation.
As prices have jumped, some local governments have started to apply the brake. In recent days, administrations in several centers tightened rules on purchases, with Sichuan's provincial capital, Chengdu, and Henan's provincial capital, Zhengzhou, barring people from buying a third property in some areas.
If construction slows, that will hurt metals consumption, according to Goldman, which said it was more concerned about the outlook for commercial real estate than residential. It noted that iron ore prices have the highest correlation with construction activity in China, and commercial properties need 5 percent to 36 percent more steel per square meter than residential buildings.
Before it's here, it's on the Bloomberg Terminal.
LEARN MORE