French State Defends Move to Save Alstom Jobs With TGV Order
By
Press, opposition link rescue plan to next year's elections

State didn't want to be criticized for 'letting industry die'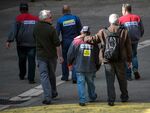 Thirteen years after stepping in to save Alstom SA with Europe's largest-ever state bailout, the French government has again found itself on the defensive over its move to prop up one of the train maker's factories.
Faced with Alstom's threat to downsize its Belfort factory in eastern France amid insufficient orders from state-owned rail operator SNCF, the government stepped in with a fresh 450 million-euro ($504 million) order for 15 high-speed trains to keep production lines rolling. Batting away criticism that the plan is politically motivated, government officials including Finance Minister Michel Sapin said the purchase of rolling stock doesn't contravene European Union competition rules and isn't linked to next year's presidential election.
"Are we supposed to stop taking decisions because there's an election within a year," Sapin said on Europe1 radio. "If we'd done nothing we'd have been criticized for letting industry die."
Alstom, 20 percent owned by the state, aborted a plan to scale down operations and transfer 400 jobs away from Belfort on Tuesday following the government's intervention. Some of the new high-speed TGV trains will run initially on regional lines where they can't approach their top speeds. Presidential candidates were equally quick to criticize the plan on the radio and social media.
'Artificial Orders'
"These are artificial orders that don't solve the structural problems of Alstom and the competition problems that French industry faces," former president and 2017 presidential candidate Nicolas Sarkozy said on his Twitter account. "This shoddy plan isn't up to challenges we face." Former Economy and Industry Minister Emmanuel Macron, who is considering a presidential run, said the rescue plan is a short-term solution. "The solution for Alstom is improving its competitiveness," he said on RTL Radio.
L'Opinion, a newspaper that favors less government involvement in the economy, said the government was spending 1.1 million euros for each worker who would have had to move. It also pointed out that the state is buying the trains, not the national railroad company SNCF, which will have to rent the trains from the state even though they aren't suited for the regional lines they will run on.
Industry minister Christophe Sirugue said on BFM TV that the average age at the factory is about 50. "We have to take that into consideration," he said. "We can't move people around like pawns."
Speed Restrictions
Sapin said putting high speed trains that can run at 320 kilometers an hour on the Marseille-Bordeaux line where speed is limited to 200 km an hour makes sense. "Is it better to buy trains that would have been outdated in 10 years, or to buy trains that can run on high-speed lines in 10 years," he said. "It's reasonable and responsible."
Alstom agreed to invest 40 million euros ($45 million) in the plant for future train development and to diversify manufacturing as part of the deal. The government also confirmed orders for 30 intercity trains and 20 towing locomotives. The intercity trains will be made in the Reichshoffen plant, 120 miles away from Belfort. Alstom has 12 French factories.
Sirugue said EU rules allow the state to pass these orders without allowing open bidding.
Alstom had proposed stopping production at Belfort, and just keeping maintenance activities at the site. The government summoned Chief Executive Officer Henri Poupart-Lafarge to explain his plan, even though the company had warned that orders were dropping off.
Alstom is profitable, having won major orders recently in India and the U.S. "They make their money from exports with trains built in other countries," Sapin said. "Should we abandon France as an industrial country?"
The French government has a history of aiding Alstom, having led a $10 billion bailout in 2003 to save the company from bankruptcy. At the time, it was Europe's largest government-led rescue. Alstom last year sold its energy unit to General Electric Co.