European Stocks Slide on Concern ECB to Turn Less Accommodative
by and
ECB reported moving toward taper consensus on bond buying

Tesco advances after posting better-than-forecast earnings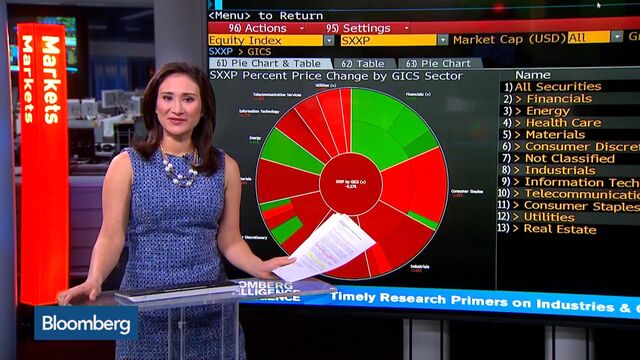 European stocks snapped a six-day winning streak on investor concern that the European Central Bank is moving toward tightening monetary policy.
The Stoxx Europe 600 Index fell 0.6 percent to 344.2 at the close of trading, after earlier losing as much as 1.2 percent. Optimism had been tentatively returning, with the equity benchmark posting six straight days without losses, after euro-area economic data began beating forecasts again and concern over lenders eased. But the fragile sentiment was dented after Bloomberg News reported that an informal consensus was building in the ECB to gradually rein in quantitative easing.
"The central bank may be trying to test the market, see how it reacts to this sort of news and lift some of the pressure we've had on the banking sector," said William Hobbs, head of investment strategy at Barclays Plc's wealth-management unit in London. "They may have come to the realization that monetary policy isn't helping the banking sector, which may ultimately make it counter-productive. There's going to be a bit of an adjustment, because some market players believe that's what has kept us afloat."

Confidence was also hit today by a report showing the region's economy is losing steam, with a Purchasing Managers' Index for the manufacturing and services sector falling in September from August. 
Utilities, travel-and-leisure and real estate industries posted the biggest declines of the 19 industries on the Stoxx 600. Banks, which have lagged the market this year amid concern that lower interest rates are crimping profits, bucked the trend to rise, led by Italian lenders. Unione di Banche Italiane SpA and Banca Popolare dell'Emilia Romagna SC advanced 5 percent or more. Deutsche Bank AG, which has lost almost 50 percent of its value this year, extended gains into a fifth day -- the longest winning streak in eight weeks -- as fears that it may need to raise capital abated.
Banks helped Italy's FTSE MIB rise 1 percent, for the best performance among major western-European markets. U.K. shares, which touched a record high yesterday as the tumbling pound boosted exporters, fell 0.6 percent, compared with declines of 0.3 percent for Germany's DAX Index and France's CAC 40 Index.
Among stocks moving on corporate news, SFR Group fell 4.4 percent as Altice NV terminated an offer to buy the rest of its telecom unit after France's financial-markets regulator said it was opposed to the plan.
Tesco Plc led a gauge of retailers higher, jumping 9.8 percent after reporting first-half profit that beat analysts' estimates. Delta Lloyd NV rallied 28 percent after NN Group offered to buy the company for 2.4 billion euros ($2.7 billion) in cash to boost scale in the pensions and insurance sectors. NN Group added 3.4 percent.
Before it's here, it's on the Bloomberg Terminal.
LEARN MORE