European Equity Markets Have Reached Macro Singularity
The market is increasingly driven by larger economic forces, challenging active stock pickers.
by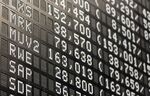 European equities are all dancing to the same beat.

Stocks across the region over the past two years have increasingly moved to the ebbs and flows of macroeconomic forces — overshadowing company- or industry-specific factors — thanks to risk aversion, low dispersion in company earnings, and a rising degree of correlation between equities and bonds. That's the conclusion from Goldman Sachs Group Inc., who note that correlations between European equities — an indication of a rising macro-driven market — are at elevated levels relative to history, though they have eased since the record highs notched in the aftermath of the Brexit vote. 
For example, the average pair-wise correlations of European stocks — the co-movements between every possible pairing of stocks in an index — have jumped over the past two years, and are currently higher than levels posted during the height of the sovereign debt crisis. That's "a function of uncertainty," say the Goldman analysts, led by Lilia Peytavin, in a research report last week. "We find a close link between equity correlations and measures of uncertainty and risk aversion."

The analysts find that the co-movements of European equities tend to vary according to the level and changes in the equity risk premium, which is the excess return the stock market is expected to earn over the perceived risk-free rate. Currently, equity risk premiums are high in Europe, indicating investors are demanding are a high return on equities given a "low degree of confidence in growth prospects," the Goldman analysts write. 
The Goldman team also notes that the sensitivity of European stocks to U.S. 10-year Treasuries is close to record highs, another indication that the market has become more macro-driven. Meanwhile, the differences between the earnings momentum between companies is relatively low, suggesting that investors have fewer stock-specific data with which to trade — another reason for the rising relative importance of macro forces.

High correlations are not just a European phenomenon — U.S. large-cap stocks also remain more macro-driven compared to their pre-crisis history, as the first Goldman chart shows.
Macro factors are increasingly important in driving returns across stock markets in the developed-world from the U.S. to Europe to Japan — challenging stock-selection strategies based on company fundamentals — according to an August report from Citigroup. The analysts, led by Matt King, wrote, "When there's only one factor dominating markets, it inevitably forces investors the same way round." The post-crisis bid to reflate global asset markets with central-bank stimulus has led to complaints among investors who say that rising levels of correlation, both within and between asset classes, are imperiling investment strategies based on diversification and active stock selection.

More recently, the uphill battle facing diversification strategies has become particularly pronounced. In September, Credit Suisse AG's cross-market contagion metric showed that markets across equities, credit, currencies, and commodities are correlated to a higher degree than at any point since the indicator was introduced in 2008. Meanwhile, some index-trading strategies designed to avoid exposure to volatile stocks failed to live up their label during the global sell-off in early September. 
The Goldman analysts offer investors some quantum of solace: Retail banks and software companies, in particular, offer opportunities for stock pickers in Europe in the coming years. 
Before it's here, it's on the Bloomberg Terminal.
LEARN MORE