European Bonds Fall as Traders Speculate on Stimulus Prospects
by
Sovereign debt in Europe also hurt by hawkish Fed speakers

Spanish 10-year yield exceeds 1% for first time in two weeks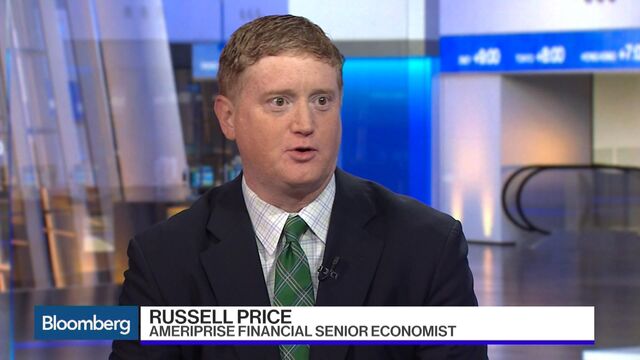 Euro-zone bonds fell as investors considered the prospect of the European Central Bank reducing its monetary stimulus, just as Federal Reserve officials talk up the chances of a U.S. interest-rate hike.
While there's skepticism that ECB tapering is imminent, Antoine Bouvet, a rates strategist at Mizuho International Plc, said reports on how the Frankfurt-based institution may pare its easing measures added to pressure on markets that were already being hurt by increased supply.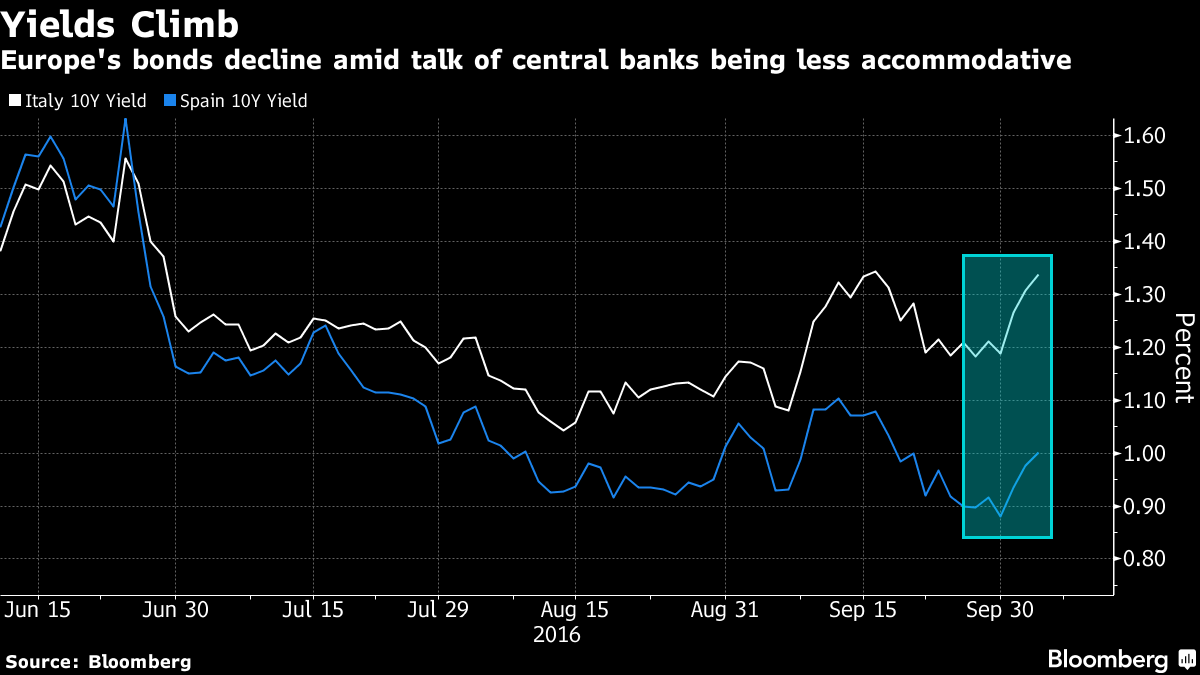 Yields on Italy's 10-year bonds surged to the highest since June and those on Spain's jumped above 1 percent for the first time in two weeks. The Italian Economy Ministry gave final terms of Tuesday's 50-year bond sale, saying total demand for its longest-ever offering was 18.6 billion euros ($21 billion).
The selloff started late Tuesday after Bloomberg reported that the ECB will probably wind down bond purchases gradually before the conclusion of its 1.7 trillion-euro quantitative-easing program. The declines had echoes of what happened in September, when the central bank's decision to refrain from signaling an immediate extension to stimulus fueled losses across the developed world's debt markets.
"The market is shaky when it starts doubting the support of central banks," said Bouvet, who's based in London. "In a context where the markets are repricing a lower level of monetary accommodation than they were expecting, peripherals have the most to lose. We've had hawkish comments from central bankers, and supply overhang is still present in both Italy and Spain."
Peripheral Bonds
Italy's 10-year bond yield climbed six basis points, or 0.06 percentage point, to 1.37 percent as of 4:29 p.m. in London, having touched 1.38 percent, the highest since June 30. The 1.6 percent security due in June 2026 dropped 0.555, or 5.55 euros per 1,000-euro face amount, to 102.14.
Ten-year Spanish bond yields jumped six basis points to 1.04 percent, a two-week high. The nation is scheduled to auction bonds maturing in 2026 on Thursday.
Benchmark German bunds, which investors typically turn to in times of turmoil, also slid, with yields of similar-maturity bonds adding five basis points to minus 0.01 percent.
Unanswered Questions
After Sept. 8, when the ECB stood pat on policy and left unresolved the question of whether bond purchases will be extended, investors were left guessing on when and how QE would end.
An informal consensus has since built among policy makers that asset buying will have to be tapered once a decision is made to end the program, according to euro-zone central-bank officials, who asked not to be identified. But they didn't rule out QE still being extended past the current end-date of March 2017 at the full pace of 80 billion euros a month.
Across the Atlantic, officials are pondering continuing the policy-tightening they started at the end of last year. Fed Bank of Chicago President Charles Evans said Wednesday that a U.S. rate hike in December was "most likely" if data continue to improve. His comments came two days after Fed Bank of Cleveland President Loretta Mester said the case for an increase is "compelling."
Reports of tapering in Europe do "serve as a reminder that the ECB would eventually need to taper QE in 2017 because there are constraints on what bonds the ECB can buy," analysts at Credit Agricole SA's corporate- and investment-banking unit, led by head of rates strategy Mohit Kumar, wrote in a note.
They predicted the central bank will still "extend QE by six months before year-end and take steps to address the issue of bond availability, particularly in Germany."
Before it's here, it's on the Bloomberg Terminal.
LEARN MORE