Encana to Boost Spending With Eye on Biggest U.S. Oil Patch
By
CEO Suttles promises to pivot the producer back to growth

Encana sold $1 billion of shares to drill for U.S. shale oil
Encana Corp., one of Canada's largest energy explorers, is increasing capital spending by as much as 64 percent as it seeks to pull more crude out of America's most prolific oil field.
The Calgary-based driller plans to spend $1.4 billion to $1.8 billion on its capital program next year, Chief Executive Officer Doug Suttles said in an interview late Tuesday. That's up from the $1.1 billion-to-$1.2 billion range the company estimated last month for spending this year.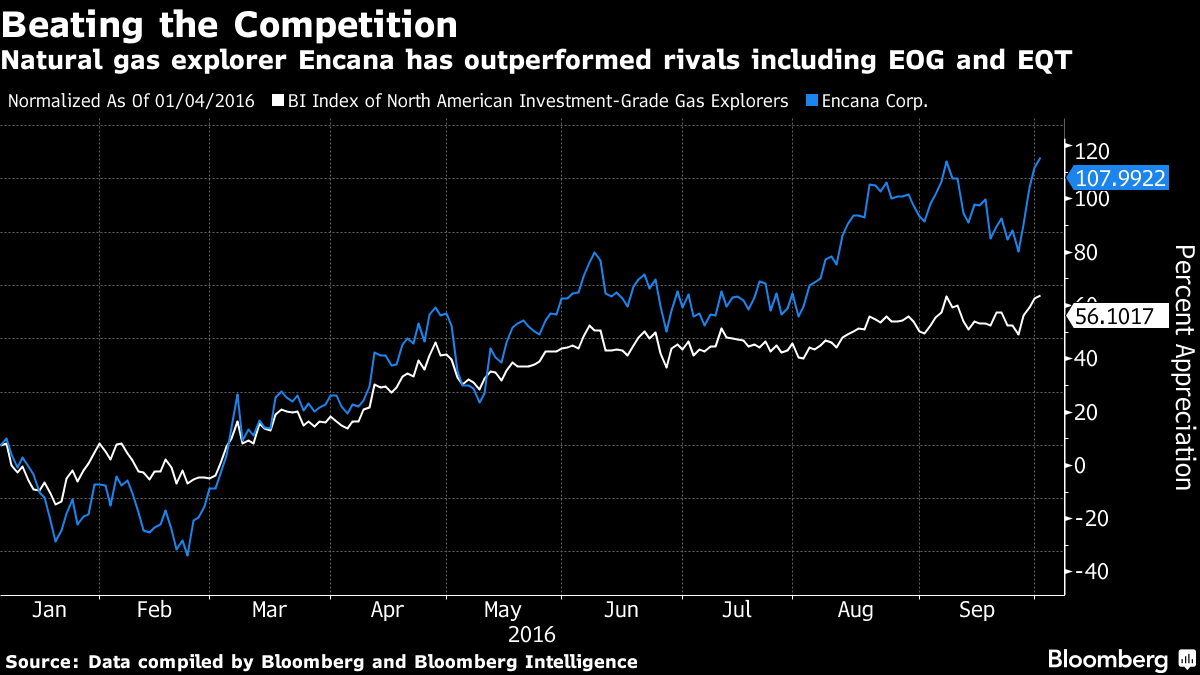 The oil and gas explorer is boosting spending as it works to expand its reach in the oil-rich Permian Basin of West Texas and New Mexico. Encana sold $1 billion of shares last month, largely to pay for exploration in the region. It's joining drillers including EOG Resources Inc. and Pioneer Natural Resources Co. in ramping up operations in the Permian after a 30 percent increase in crude prices in the first half of the year.
"In the current environment, we've obviously been shrinking," Suttles said in an interview with Bloomberg in New York. "What we now need to do is pivot back to growth. We don't think many people can do that. We don't think they have the portfolio. We don't think they have the efficiencies. We don't think they have the balance sheet capacity to do that."
Encana rose as much as 5.3 percent Wednesday to touch C$14.64, the highest intraday price since June last year. The shares were 3.7 percent higher at 2:33 p.m. in Toronto.
Related: A Top Permian Oil Producer Says Rig Counts in the Region Are Going to Soar
Oil and other liquids now make up about 35 percent of Encana's production, and Suttles said it's working toward a 50-50 split between liquids and natural gas output within five years. The company is targeting a 20 percent increase in overall production in the fourth quarter of 2017 from a year earlier, he said.
Analysts had projected that Encana's capital spending would total $1.47 billion next year based on a Bloomberg survey.
Upstream operating costs this year will be $3.96 per barrel equivalent of production to $4.10, below the range of $4.15 to $4.35 forecast in July, Ecana said in slides posted for an investor meeting. Lower costs will save about $50 million, RBC Capital Markets analyst Greg Pardy wrote in research published Wednesday.
"This is positive at the margin and reflects underlying improvements in its underlying cost structure," according to the research.
Growth will be self funding, with cash flow exceeding capital spending after 2017, according to the slides. Encana intends to raise cash flow fourfold by 2021, assuming crude sells for $55 a barrel and gas for $3 per million British thermal units.
"North America is blessed with immense natural gas resources, which means energy costs should be low forever, almost," Suttles said.
Before it's here, it's on the Bloomberg Terminal.
LEARN MORE