Economic Recovery Won't Be Enough for 25% of Banks, IMF Says
By
Some lenders will remain weak even when growth picks up

Banks need to get rid of bad loans, reduce branches to improve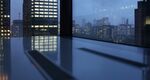 A global economic recovery would still leave about a quarter of banks in developed countries too weak to support further growth and susceptible to future shocks, the International Monetary Fund said.
Banks controlling about $12 trillion of assets would remain vulnerable during a rosy economic environment marked by faster economic activity, rising interest rates and declining defaults, the IMF said Wednesday in its semiannual report on financial stability. Most of those banks, with $8.5 trillion in assets, are in Europe, according to the report.
Persistent low interest rates, sluggish capital markets activity, higher capital requirements and legacy nonperforming loans have strained profits for banks in the developed world. The firms need to reduce bad debt stocks and undertake structural reforms -- such as closing branches and sector consolidation -- to improve profitability, the IMF said.
"This will require adjusting dated business models in order to maintain profitability, and adapting to new business realities and regulatory standards," according to the report.
Bad Loans
Governments can help with legal changes to make it easier for banks to get rid of bad loans, the IMF said. In the euro zone alone, the effect on bank capital would be to swing from a loss of 80 billion euros ($89 billion) to a gain of 60 billion euros, the IMF estimated. Italian and Greek banks would be the biggest beneficiaries of such changes, the report said, adding that recent steps taken by the Italian government to implement such reductions might not be enough, according to the report.
Short-term risks to the global financial system have declined since the agency's April report, as oil prices stabilized and the immediate impact of the U.K.'s vote to exit the European Union has been less than feared, the IMF said. Medium-term risks increased as the global economy slows further and protectionist economic policies spread.
Japanese banks are becoming more exposed to currency fluctuations as they expand overseas to make up for low profitability at home, the report said. Emerging market banks face the risk of surging defaults if companies' efforts to deleverage coincide with rising interest rates or market turbulence, it added.
Before it's here, it's on the Bloomberg Terminal.
LEARN MORE