Deutsche Bank Angst Sparks Record Surge in Default Insurance
by
Outstanding contracts jumped by $352 million to $4.1 billion

Trading activity increased for a fifth week, DTCC data show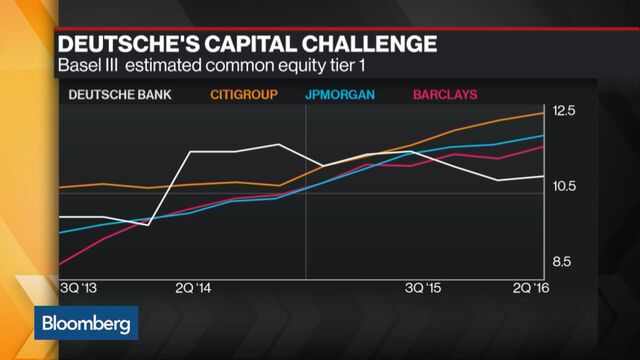 Market convulsions over the health of Deutsche Bank AG last week sparked the biggest surge in at least eight years in credit derivatives that protect traders against failure.
Default swaps on Germany's biggest lender's debt increased by $352 million in the week to Sept. 30, the biggest jump on record in Depository Trust & Clearing Corp. data going back to October 2008. That brings the amount at stake to the highest since May, with contracts covering a net $4.1 billion of debt, the data show.
Speculation about Deutsche Bank's health was stoked last month when it received a $14 billion claim from the U.S. Justice Department to settle an investigation into the firm's sale of residential mortgage-backed securities. Analysts said the bank might need to raise capital even if the fine were lowered.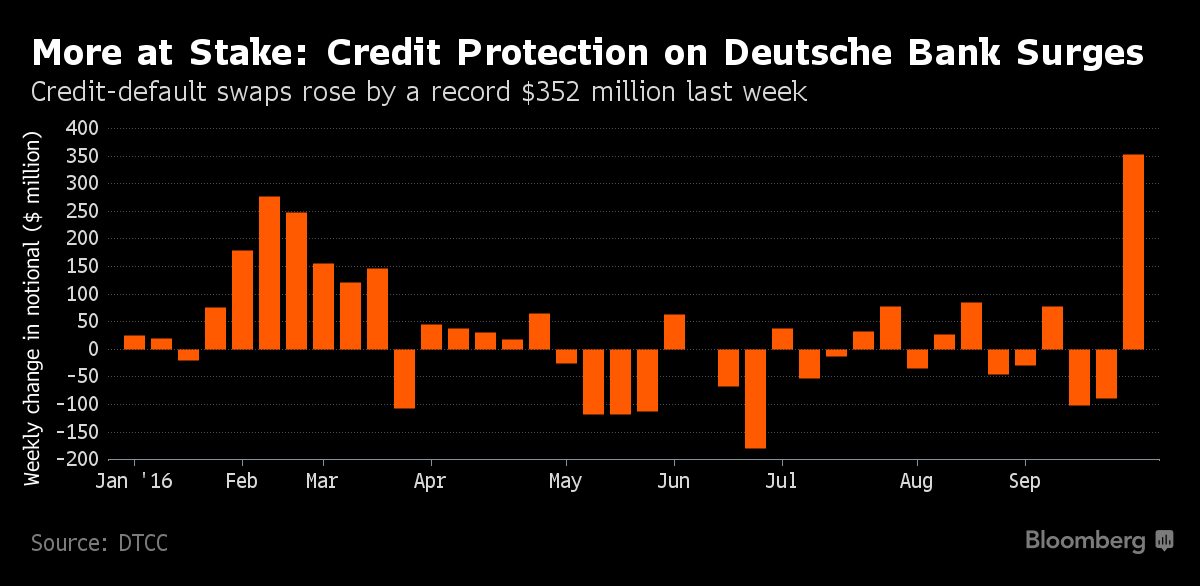 "There was definitely a whiff of panic in the air about Deutsche Bank last week," said Roger Francis, an analyst at Mizuho International Plc in London. "Everyone wants to express a view on Deutsche Bank and credit swaps seem to have been one of the popular ways of doing that. People who hold the bonds or have derivatives exposure to the bank may have bought protection and hedge funds have been shorting the name."
Investors bought and sold credit swaps covering a gross $2.7 billion of Deutsche Bank's debt last week, more than three times the volume that changed hands a week earlier and the fifth straight increase, according to DTCC. The contracts were the fourth-most traded among 1,000 entities tracked by DTCC, trailing Mexico, Turkey and China and followed by Brazil, Korea and Italy.
Inverted Curve
The cost of insuring against short-term losses on Deutsche Bank's debt surpassed that for longer term on Sept. 30 in a sign of stress. The so-called credit curve remained inverted on Wednesday, with one-year credit-default swaps on senior debt at 255 basis points and five-year contracts at 219 basis points, CMA data show. One-year swaps on junior bonds cost 532 basis points, compared with five-year contracts at 453 basis points.
"People have been hedging themselves against what they perceive as a heightened risk of Deutsche Bank getting into significant trouble," said Robert Montague, a senior financials analyst for ECM Asset Management in London, whose parent Wells Fargo Asset Management oversees about $480 billion. "They're using it for what it's designed for, to protect against default."
Before it's here, it's on the Bloomberg Terminal.
LEARN MORE