NSA Contractor Arrested on Charge He Stole Classified U.S. Data
By
Complaint says theft could cause 'grave damage' to security

Booz Allen shares fall after company says it fired employee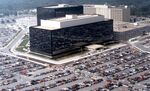 A U.S. contractor has been arrested by the FBI for allegedly stealing classified government documents that could cause "exceptionally grave damage" to national security if disseminated, according to a criminal complaint unsealed Wednesday by the Justice Department.
The contractor, Harold Martin of Glen Burnie, Maryland, worked for the consulting firm Booz Allen Hamilton Holding Corp. and was assigned to the National Security Agency, according to a person familiar with the matter who wasn't authorized to discuss it publicly. The company also had employed Edward Snowden, who took and released thousands of classified files from the NSA in 2013 before fleeing the country.
The arrest is bound to fuel doubts about the government's reliance on contractors to perform some of its most sensitive work. It also raises questions about the effectiveness of efforts that the NSA and other intelligence agencies made after the Snowden revelations to improve their ability to detect insider threats, said James Lewis, a cybersecurity specialist and senior vice president at the Center for Strategic and International Studies in Washington.
"This was not supposed to happen again," said Lewis. Most of those who work with intelligence agencies "are highly motivated and very patriotic and wouldn't do this. But you only need one and that's where they're having trouble."
Shares Fall
The investigation into Martin occurred around the same time that sophisticated hacking tools apparently used by the NSA were leaked online. Law enforcement and intelligence agencies, including the FBI and NSA, declined to comment.
Booz Allen fell 3.8 percent to $30.30 at 3:18 p.m. after initially declining 6.1 percent, the most since Jan. 27. The company said it fired the worker, whom it didn't name, and is cooperating with law enforcement.
"When Booz Allen learned of the arrest of one of its employees by the FBI, we immediately reached out to the authorities to offer our total cooperation in their investigation, and we fired the employee," the company said. "There have been no material changes to our client engagements as a result of this matter."
'Loves His Country'
Martin admitted to investigators that he knowingly took home documents and digital files that contained highly classified information from the agency he worked for, according to the complaint. Martin was arrested on Aug. 27 and faces a maximum sentence of one year in prison for the unauthorized removal and retention of classified materials and ten years in prison for theft of government property. He hasn't been charged with espionage.
"There's no evidence that Hal Martin has betrayed his country," James Wyda, the U.S. public defender in Maryland who indicated he is representing Martin, said in a statement cited by the Baltimore Sun. "What we do know is that Hal Martin loves his family and his country. He served this nation honorably in the U.S. Navy, and he has devoted his entire life to protecting his country. We look forward to defending Hal Martin in court."
For a QuickTake explainer on cybersecurity issues, click here.
The complaint "alleges that among the classified documents found in the search were six classified documents obtained from sensitive intelligence and produced by a government agency in 2014," according to a Justice Department statement. "These documents were produced through sensitive government sources, methods and capabilities, which are critical to a wide variety of national security issues. The disclosure of the documents would reveal those sensitive sources, methods and capabilities."
White House spokesman Josh Earnest told reporters Wednesday that the government has taken steps since Snowden's disclosures to better guard government secrets, including creating a National Insider Threat Task Force to protect against insiders leaking sensitive information and improving background checks. The number of people with access to classified information has been reduced by 17 percent in the last few years, he said.
Snowden quickly weighed into the speculation over the case in a series of cryptic posts on Twitter: "Lazy: This guy and @Snowden both worked at @BoozAllen, so they are the same. Not lazy: Booz must have a unique contract. Let's investigate."
The New York Times reported earlier Wednesday that the FBI was investigating whether the contractor who was arrested took classified computer source code developed to break into the systems of adversaries such as Russia, China, Iran and North Korea.
ShadowBrokers
In August, files of high-tech hacking tools were posted by a group that called itself ShadowBrokers. Part of that breach included about 300 megabytes of tools and techniques to infiltrate computer systems' firewalls, according to Kaspersky Lab, a software security firm. On the day of the leak, much of the NSA's public website was down.
The leak stumped cybersecurity experts, who speculated that Russia, China or an NSA insider could be responsible. Because time-stamps on the files dated to 2013, some of the software weaknesses could have since been fixed.
At the time, Snowden offered a theory that the leak was done to publicly shame the NSA, saying, "We can damage you further because we have all this other information and you don't even know what it is."
— With assistance by Toluse Olorunnipa, Nafeesa Syeed, and Andrew M Harris
Before it's here, it's on the Bloomberg Terminal.
LEARN MORE