Clinton Campaign Video Seeks to Win Day After Kaine's Debate Loss
Though he was declared the winner on style points, Pence's performance gave the Clinton campaign a lot to work with.
By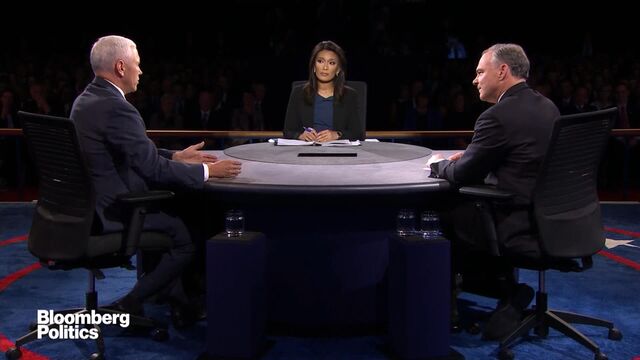 As the results of snap polls began rolling in following Tuesday night's vice-presidential debate, it was clear that Republican Mike Pence had left a much better first impression with audiences than Democrat Tim Kaine. But as the content of the their answers began to be further scrutinized, some observers began to question whether Kaine's jarring interruptions, while giving Pence a victory on style-points alone, might have served another purpose. 
"If nothing else, Tim Kaine has gotten Mike Pence to lie a lot in ways that can be juxtaposed with video and audio of Trump later," Washington Post reporter Alyssa Rosenberg tweeted. 
Election forecaster Nate Silver saw a similar dynamic. 
"A weird night. I think Pence may be setting himself up to win the debate itself but lose the post-debate debate," he wrote on Twitter. 
Sure enough, Hillary Clinton's campaign had the video out before work hours Wednesday morning.
It doesn't matter that Pence, the governor of Indiana, had won, the video asserted, because he had been shown offering up multiple falsehoods, especially when confronted with the past statements of running mate Donald Trump.
New York Times columnist Frank Bruni chimed in with a piece titled "Mike Pence's Galling Amnesia." 
"In the face of Kaine's incessant grilling, Pence blithely denied that Trump had made statements that he inarguably had, changed the subject to Hillary Clinton's failings, mocked Kaine for being scripted and dismissed Kaine and Clinton as career politicians—ignoring the fact that he fits that description, too," Bruni wrote. 
Hours after appearing on the Times' website, the article's title became a trending topic on Twitter. Trump has accused the Times, as well as CNN, of being in collusion with the Clinton campaign, but Pence's repeated claims that Trump had never said what the Republican presidential nominee is on record as having said made it easy for news organizations to cut their own videos showing otherwise. 
Rapid Response
Clinton's "Indefensible" video comes on the heels of another highly-effective rapid response effort. Following the first presidential debate last week, which concluded with Clinton introducing the nation to former Miss Universe Alicia Machado, the campaign pushed out a video detailing the story of Trump's slights against her. 
The Machado video capped Clinton's debate victory, and kept Trump hurling insults for days. There's little doubt that he had walked into a Clinton trap. 
Clinton spokesman Nick Merrill told Bloomberg Politics on Wednesday that the Machado video was not "planned three weeks out," but it was in the pipeline. 
"We had this video ready to go in the event that, you know, she came up with news or came up in the debate and then, sure enough, she came up in the debate," Merrill said.
Trump, on the other hand, displayed little effective preparation during the first debate, and his campaign has not excelled in controlling the narrative afterward. Following the vice-presidential debate, the Republican National Committee did release an spot that hammered Kaine for his interruptions. 
But if Trump is to win Sunday's face-off with Clinton, he'll have to win not just on style points, but by controlling the narrative after the debate, as well. 
Can he do it? His campaign manager, Kellyanne Conway, said Wednesday he knows to stick to the issues, rather than insults.
"What he understands is that he's best when he talks about... Hillary Clinton or her record," Conway said on MSNBC.
Either way, there's bound to be a Clinton video Monday.
—With assistance from Jennifer Epstein.
Before it's here, it's on the Bloomberg Terminal.
LEARN MORE