Cardenas Says Colombia Peace Setback Won't Hurt Economic Agenda
By and
Government tax reform to increase taxes on high earners

Declined to rule out introduction of a tax on dividends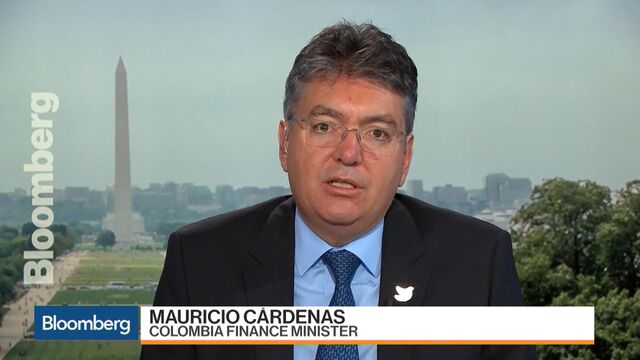 Colombia's ruling coalition is intact and able to pass the government's economic agenda after voters rejected a peace deal aimed at ending a five-decade conflict, Finance Minister Mauricio Cardenas said.
The Senate on Tuesday passed a law raising some liquor taxes, which Cardenas said was evidence that the administration of President Juan Manuel Santos can still get laws through Congress, the minister said, speaking in an interview with Bloomberg TV.
"The government has been able to secure a working coalition in Congress to pass the economic agenda," Cardenas said. The rejection of the peace agreement "should not interfere with the economic agenda. On economic issues there shouldn't be any major changes," he said.
Voters' surprise opposition to a peace accord with the Revolutionary Armed Forces of Colombia, or FARC, in a plebiscite on Sunday triggered a sell off in the nation's bonds and currency this week. Investors worried it may hamper the government's tax reform bill, which is needed to plug the nation's widening fiscal deficit.
The peso reversed an earlier drop after Cardenas remarks and was 1.4 percent higher on the day in afternoon trade in New York, the biggest advance among emerging markets currencies.
The Colombian people understand the need for a tax reform, and the government will do whatever is needed to preserve the nation's BBB credit rating, Cardenas said. In a separate interview, the minister said that high income earners will pay more after the tax reform, and didn't rule out a tax on dividends.
"We are not making initial concessions. We are going to go for the tax reform the country needs," he said, adding that the tax reform should go to a vote on congress as early as next ween and could be enacted by the end of the year.
Colombians rejected an agreement between the government and the FARC by 50.2 percent to 49.8 percent, throwing the Andean nation into a political crisis. The agreement would have granted the largest guerrilla army in the Americas seats in Congress, agricultural reform and reduced sentences for crimes in return for handing in their weapons to UN monitors.
Many Colombians objected to a group known for bomb attacks and kidnapping receiving lenient treatment. More than 200,000 Colombians have lost their lives in the conflict, which began more than fifty years ago.
— With assistance by Erik Schatzker
Before it's here, it's on the Bloomberg Terminal.
LEARN MORE