Brexit Bulletin: We Can See Your Red Lines
Against Theresa May's wishes, demands are being made in public.
By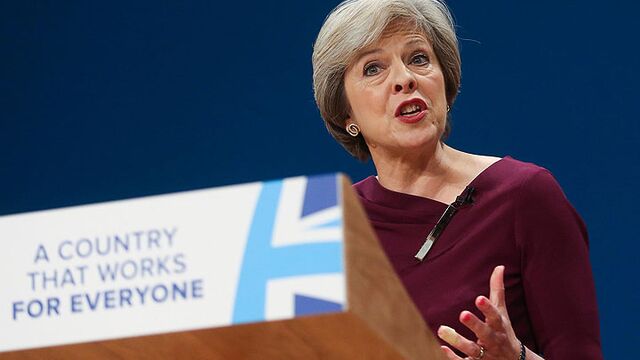 Sign up to receive the Brexit Bulletin in your inbox, and follow @Brexit on Twitter.
The Brexit red lines are now being drawn in public, which is not what Prime Minister Theresa May wants.
Speaking at a fringe event at the Conservative Party conference in Birmingham, the parliamentary aide to Brexit Secretary David Davis said the government has ruled out making payments to the EU budget in return for single-market access, accepting freedom of labor movement, submitting to EU lawmaking or allowing continental judges to have jurisdiction.
"We are in the business of honoring the faith and trust that the British people put in us and the instruction to deliver on June 23 around the key red lines," Stewart Jackson said.
That was a theme quickly picked up by May in her keynote conference speech on Wednesday, when she spoke of returning lawmaking powers to Britain.

Jackson gave the most specific outline yet of the U.K.'s thinking, and his words will do nothing to douse the suspicion of European politicians and investors that May is angling for a clean break from the EU's single market. She seems to favor a "pretty harsh Brexit," Dutch Foreign Minister Bert Koenders said on Tuesday.
Today, Guy Verhofstadt, the European Parliament's representative on Brexit matters, said the U.K.will not be able to "infringe" on the movement of labor, capital, goods and services. 
Those lines are being drawn ever-more clearly.
Immigration Policy Backlash
Home Secretary Amber Rudd was forced on to the defensive after being accused of stoking racism and threatening the economy through her proposals to cut the number of foreign workers at British companies.
Under the plans, announced on Tuesday, firms would have to list non-U.K. nationals who work for them. Banks and landlords would also face sanctions if they fail to make checks on foreigners doing business with them.
"We mustn't ignore the fact that people do want to talk about immigration; if I want to talk about immigration, don't call me a racist," Rudd told BBC Radio 4 on Wednesday. 
Adam Marshall, acting director general of the British Chambers of Commerce, said the approach was "bad news for the economy, job creation and business investment."
Elaine He of Bloomberg Gadfly takes a look at the debate.
Banks Fight Back
Banks are fighting back in a bid to win special treatment in the Brexit negotiations.
After our report that government officials are not planning to prioritize finance in the talks, consultants Oliver Wyman released a research warning that almost £40 billion pounds in revenue, 70,000 jobs and £10 billion pounds of tax revenue are at risk from a so-called hard Brexit.
Sponsored by TheCityUK lobby group, the report estimates financial services generate between £190 billion and £205 billion of revenue annually and employ 1.1 million people. The industry pays between 60 billion and 67 billion pounds in taxes each year.
Hector Sants, a former regulator and co-author of the study, said:
"It is in everyone's best interests for there to be a positive outcome to the negotiations that is mutually beneficial to the U.K. and the EU, causes minimum disruption to the industry and benefits customers." 
As banks continue to push for a transitional deal to safeguard their access to the EU, a government spokesman repeated that May is focused on securing the best deal. The government is talking with financial executives to ensure it fully understood their issues as it seeks to keep Britain a "great place" for the industry, the spokesman said.
Bye Bye Birmingham
May wrapped up the party conference today by seeking to pivot from Brexit to a pitch that she will champion Britain's struggling working class.

Her aim: to address the voter concerns that drove the surprise Brexit vote.
"Just listen to the way a lot of politicians and commentators talk about the public," the prime minister said.
"They find their patriotism distasteful, their concerns about immigration parochial, their views about crime illiberal, their attachment to their job security inconvenient. They find the fact that more than 17 million people voted to leave the European Union simply bewildering."
The speech marked the end of a conference in which the Tory flock fully and enthusiastically committed to delivering what 52 percent of the nation voted for. 
One pro-EU former minister, who asked not to be named, said party members are acting like a group of people high on amphetamines who will, at some point, come down.
Economy Boost
Britain's powerhouse services sector grew more than forecast last month in another sign the economy is weathering the shock of the referendum result. IHS Markit said its Purchasing Managers Index dipped marginally to 52.6, above the 52.2 forecast in a Bloomberg survey. It marks the second month over 50, the dividing line between expansion and contraction.
Still, Deputy Bank of England Government Ben Broadbent said there could be an "insidious" effect on investment from the decision to quit the EU. That's less upbeat than colleague Michael Saunders who said yesterday the economy will grow faster than the Bank of England now predicts.
Brexit Bullets
On the Markets
Sterling fell to its lowest in five years against the euro on Wednesday at a time when traders are increasingly having to tune into a cacophony of voices.
As we report today, a series of European officials can shape the Brexit negotiations, meaning investors will have to hold a close ear to them all. A preview of the future came on Sept. 20 when Tomas Prouza, the Czech Republic's top negotiator, sent the pound down by saying there's "zero chance" Britain can clinch a deal which includes both migration curbs and free market access.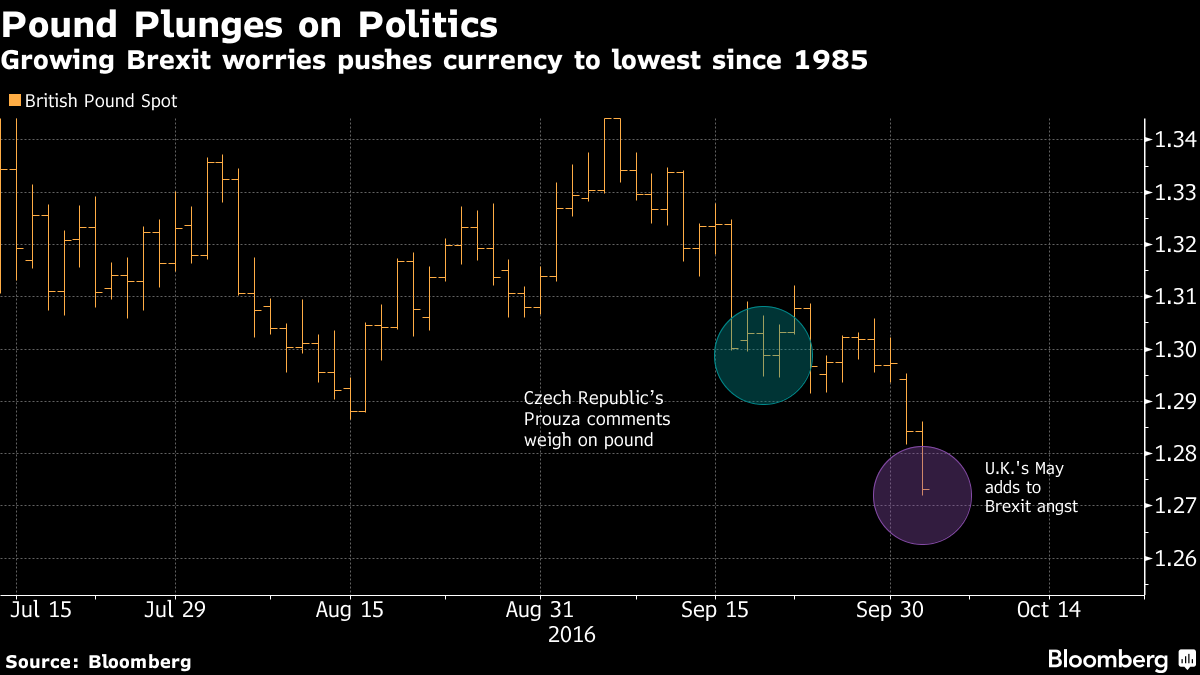 Staying Away
M.M. Warburg & Co. was one of the few banks to predict the vote to leave, and now it is shunning U.K. assets. Having correctly said in April he expected a "thin majority" to back Brexit, Carsten Klude, its head of asset management and chief economist, now says he's avoiding British stocks and gilts despite their post-referendum rise.
And Finally...
Brexit means...breakfast, apparently. Andrew Davies, leader of the Welsh Conservative Party, was surely chuckling into his cornflakes this morning. Just like the rest of us.
For more on Brexit follow Bloomberg on Twitter, Facebook and Instagram, and see our full coverage at Bloomberg.com
Before it's here, it's on the Bloomberg Terminal.
LEARN MORE