markets
Barclays Trader Says He Was Thrown to Wolves Amid FX Scandal
By
Executives left with reputations intact while traders let down

Clark suspended in 2013 amid global probe into rate rigging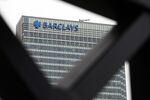 Barclays Plc traders working on the "front-line" of the foreign-exchange market were sacrificed to satisfy regulators and save the reputations of senior executives, according to an employee fired amid the scandal.
Mark Clark, who joined Barclays' G10 spot desk in 2010, said in court documents at a London employment tribunal that his bosses were allowed to resign or retire with their reputations "intact" days after he and his colleagues were dismissed for sharing confidential information.

"The bank let me down entirely and I have been thrown to the wolves," Clark, who is suing the bank for unfair dismissal, said in his statement. "I was dismissed for behavior that was standard practice in the global FX market." 
Clark follows colleagues Chris Ashton and Jack Murray in suing the bank after the fallout of the worldwide foreign exchange probe. Ashton, a member of the "cartel" chat room at the center of the scandal, lost his case after a judge ruled last month that the bank took "appropriate actions in light of" his "gross misconduct."
Clark said that his superiors "were fully aware of" the conduct of the traders.
'Market Color Guidance'
Mike Bagguley, who is now chief operating officer of Barclays Investment Bank, knew how traders communicated and was involved in forming "market color guidance" that encouraged Clark and his colleagues to trade information that the bank retrospectively condemned, Clark said.
The bank took issue with Clark's testimony, saying in a statement that it "vigorously disputes the allegations."
Former Barclays executive Justin Bull said during testimony Sept 27 that he was "uneasy" suspending traders accused of foreign-exchange manipulation. He made similar statements at Murray's hearing earlier this year.
Bull was given the task of overseeing Clark's disciplinary process that alleged the trader shared confidential information with competing banks, that he potentially tried to fix certain FX spot rates and "engaged in other behavior potentially prejudicial" to the bank's reputation, according to Bull's witness statement.
The scandal was one of several involving the rigging of key benchmarks that emerged following the financial crisis. Authorities in the U.S., the U.K. and Switzerland fined banks including Citigroup Inc., JPMorgan Chase & Co. and Barclays for their role in currency-market manipulation.
— With assistance by Jeremy Hodges
(
Updates with Justin Bull's testimony starting in the eighth paragraph.
)
Before it's here, it's on the Bloomberg Terminal.
LEARN MORE