Vancouver's $1,000-a-Day Home Price Escalation Stutters
By and
Sales plunge in city as successive measures damp sentiment

Developers are 'running for the door,' real estate agent says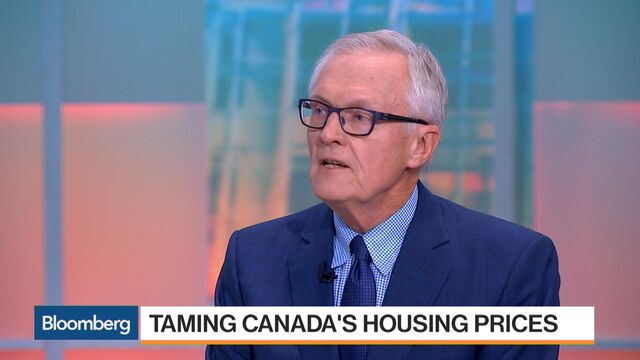 The graceful six-bedroom house in a Vancouver neighborhood flanking one of Canada's top universities and a massive park would usually receive a slew of offers above its C$4.5 million ($3.4 million) asking price.
That's if its July listing hadn't coincided with the week the government announced a 15 percent tax on foreign buyers intended to cool the market. The grey wood-frame house was soon pulled and relisted for C$100,000 less before finally closing seven weeks later at just over C$4 million, 9 percent below its original price.
A 33 percent drop in Vancouver home sales in September from a year ago, the biggest decline since 2010, signals North America's once-hottest real estate market -- where the average home was appreciating by more than C$1,000 a day -- has reached a tipping point.

With Vancouver among global cities most at risk of a housing bubble, according to UBS Group AG, authorities are taking steps to slow the pace of gains. The federal government unveiled new rules on Monday to close a loophole that gave some non-residents a tax break when they sold a home. The changes also tighten mortgage insurance eligibility requirements even for borrowers with large down payments. 
That follows British Columbia's new foreign-buyer levy, as well as Vancouver Mayor Gregor Robertson's plan for the city to start taxing vacant homes next year.
Taking Longer
Gone are the days when buyers placed bids without inspecting properties and sellers collected all-cash offers. Properties are taking longer to sell, transactions are plummeting and in some cases prices are coming down in a city where the cost of housing has doubled in the past decade.
"Market activity ultimately comes down to sentiment," said Adil Dinani, a Vancouver agent for Royal LePage, a unit of Brookfield Real Estate Services Inc. The slew of measures will "likely cause a pull back in activity, creating more questions on the direction of where the market is heading."
The sale of that grey six-bedroom house just as the new foreign-buyer tax hit may have cost the owners about half a million dollars. Only a month earlier, a similar property, just two streets up, had sold 15 percent over its asking price for C$4.48 million.
Other examples are cropping up across Canada's third-biggest city, ranked among the world's most livable and long a magnet for global cash. A three-story home in upscale Shaughnessy, across from a park and within walking distance of a school and hospital, was listed at C$5.4 million and stayed on the market for more than two months. It recently sold for C$1.1 million, or about 20 percent, below its list price. 
'Spooked Everybody'
Just east of the central business district, a house on a 3,050-square-foot lot listed last week for C$850,000 -- a price unimaginable in January, when researchers declared that C$2 million was fast becoming the new threshold for buying a single-family home in Vancouver, according to listing and sale data provided by brokers.
"There's no doubt -- the number of transactions has gone down and homes are on the market longer," said Dan Morrison, president of the Real Estate Board of Greater Vancouver. "The tax spooked everybody, and even locals are now holding back and watching."
Accelerated Slowdown
Houses that took two to three weeks to sell are now on the market twice as long, Morrison said. Sales of single-family detached homes fell by half in September from a year earlier, the Real Estate Board of Greater Vancouver reported Tuesday. Benchmark prices rose barely 0.1 percent from the month before. Compare that with May, when prices climbed 7.9 percent in a month.
The tax has accelerated a slowdown that began earlier in the spring as prices reached eye-watering levels, said Wayne Ryan, a managing broker with Re/Max Holdings Inc. who oversees a team of about 100 brokers in the region. "From the peaks last April, we've probably seen a 10 to 15 percent correction," in prices for detached homes, he said.  
An apartment in the Pacific Coast city needs to be rented about 40 years to pay for the cost of buying it -- the highest price-to-rent ratio among the 18 financial centers surveyed, UBS said in a report last week, indicating housing prices are overly dependent on low interest rates. "The risk of a substantial price correction appears very elevated," it said.
Changes can play out more slowly in real estate compared with other markets. The effect on prices is yet to come, according to Keith Stride, a real estate agent in Vancouver.
Growing Glut
"The supply is building and people are waiting," he said by phone. "That data will end up presenting itself, but now is too soon."
Stride, who grew up in the city, has watched homes pulled this month to relist at lower prices, others selling for as much as 10 percent under the asking price, or sitting on the market for longer than usual amid a growing glut.
The retreat is most apparent on his daily drives to appointments and showings. In the frenzy earlier this year, developers began purchasing homes with the intention of tearing them down and building massive new ones to resell at a higher price. The orange fences line the lots and the demolition permits were in place, but those homes are back on the market.
"Developers and or offshore investors who were planning to develop and make a buck seem to be running for the doors right now," said Stride.
Before it's here, it's on the Bloomberg Terminal.
LEARN MORE