New Vale Heartland Has Jilted Lawmakers Plotting Against CEO
by and
Northern Brazil push is upsetting home-state politicians

Same strategy is helping Vale outperform peers in stock market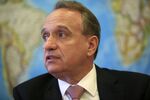 Building the world's next major iron-ore hub has Vale SA investors applauding the prospect of higher earnings and a group of scorned politicians plotting to oust the company's leader.
Chief Executive Officer Murilo Ferreira is overseeing the Brazilian mining giant's shift away from its home state of Minas Gerais and toward new deposits in the north. The change has culminated in a $14 billion mining complex in an area where ore quality is higher and costs will be lower. It's also left behind a region that's seen spending and job opportunities steadily decline over the last four years, spurring bitter feelings along the way.
"The direction of the company could have been better handled," Minas Gerais Congressman Newton Cardoso Jr., whose father was a state governor, said in an interview. "Vale needs a CEO that focuses on environmental issues and that respects Minas Gerais's investment priorities and job-generation needs."
While local opposition like that would normally be of little consequence for an independently run company, Vale is controlled by a holding company whose owners include state pension funds and a development bank. And the changes come at a time when the new government is suffering from a recession and looking to distance itself from authorities and executives with perceived allegiances to the previous administration.
Ferreira took the CEO job in 2011 as part of a management shakeup driven by then President Dilma Rousseff. Since then, the company has been on a roller coaster ride of sorts. Over that period, Vale's shares lost 66 percent as commodity prices tumbled amid slowing Chinese demand and expanding supply. Since January, though, there's been a turnaround. 
As the CEO stepped up cost- and debt-cutting efforts and prices steadied, the company's stock jumped more than 50 percent, outperforming rivals. And last month, JPMorgan Chase & Co. raised its stock recommendation to the equivalent of buy. Now, Ferreira is at the center of a growing national controversy over whether his efforts, which are helping the company thrive, are hurting a region of the country that has served as Vale's cash cow.

The northern push will allow Vale to start shipping low-cost, high-grade ore early next year from its new S11D mine, using state-of-the-art logistics not found in Minas Gerais. That will lower overall production costs and narrow the advantage of Australian operations owned by Rio Tinto Group and BHP Billiton Ltd. because of their proximity to Chinese steel mills.
"You have to be on the lower end of the cost curve," Patrik Kauffmann, who helps manage $11 billion in assets including Vale bonds at Solitaire Aquila Ltd. in Zurich, said by telephone. "That guarantees your survival even in difficult times."
The prospect of getting iron ore to China cheaper and creating thousands of jobs in poor northern communities in the process is cold comfort for a group of Minas Gerais politicians from the PMDB party, to which Brazil's President Michel Temer also belongs. They're working behind the scenes to try to replace 63-year-old Ferreira when his contract expires in the second quarter of next year, a government official with knowledge of the matter said, without naming them.
While mines in Minas Gerais still account for more than half of Vale's overall output, spending in the state has steadily declined in the past four years and is now a fraction of northern outlays.
President Temer hasn't taken a public position on Ferreira, and the presidency's press office declined to comment. Vale's press department in Rio declined a request for comment from Ferreira.
Northern Hero
Vale's shift north provides a backdrop for other criticisms being leveled at management by Minas Gerais lawmakers. They include an allegedly tepid response to a deadly dam accident at Vale's joint venture with BHP last year, said the government official said, who isn't authorized to speak publicly. And it doesn't help that Ferreira is viewed as a long-time ally of impeached president Rousseff.
The animosity for Ferreira by some Minas Gerais politicians isn't shared by Hildo Rocha, a PMDB party representative from the northern sate of Maranhao, where Vale is finishing a massive railway and port expansion to serve the new S11D mine.
"He's done a great job," Rocha said in an interview. "Vale's investments in Maranhao have been very important, especially with the crisis, the low prices for iron ore."

Cardoso Jr. said that while he understands a company has to look after its bottom line, many in Minas Gerais feel Vale should show more loyalty. Privatized in 1997, Vale tapped the state's mineral wealth to fund global expansions and become one of the most valuable commodity producers on the planet. Until 2009, Vale was known as Vale do Rio Doce after the river that runs through the state.
Understanding Iron Ore's China-Driven Ups and Downs: QuickTake
No discussions to look for a new CEO have officially begun, the government official said. But if Temer wanted to lobby for change at the behest of his PMDB colleagues, some of the necessary pieces may have fallen into place recently.
The company's controlling group includes Previ, the state pension fund run by Banco do Brasil SA. Whoever heads Previ also traditionally presides over Vale's board. Temer has already changed leadership at Banco do Brasil and development bank BNDES, another Vale shareholder.
Yet for a Temer administration stressing how market-friendly it is in comparison with the previous government, negotiating a Vale CEO change isn't a top priority right now. Any drive to push shareholders to select a replacement probably will be left until Ferreira's contract ends, the government official said.
Back in northern Brazil, Congressman Rocha approves of the job Ferreira has done and hopes Maranhao can develop its own steel industry by taking advantage of all the new iron ore there.
"Vale's created jobs and is generating revenue for the state," he said.
Before it's here, it's on the Bloomberg Terminal.
LEARN MORE