S&P 500 Falls to Start Month Known for Turbulence, Turnarounds
by and
October has been strongest month of returns in past 25 years

But beware of a "key low," Instinet's Cappelleri says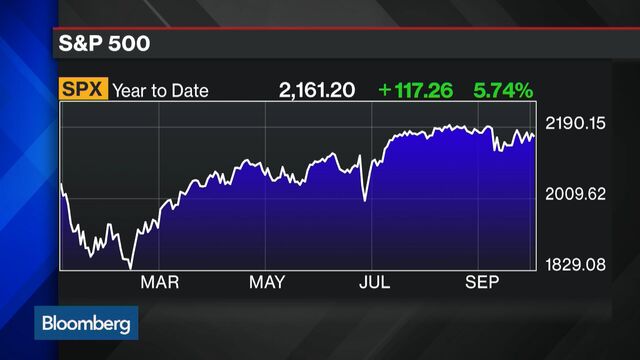 The U.S. stock market may be headed for some turbulence, and possibly a fresh record.
October's delivered the most swings of at least 1 percent for the S&P 500 Index since 2000, giving investors reason for caution following a summer of muted volatility. If history's any guide, though, the benchmark for American equity will post an outsize gain in a period that's been the best over the last 25 years, with an average advance of 1.9 percent. The S&P 500 slipped 0.5 percent to 2,150.49 at 4 p.m. in New York, 1.8 percent below its all-time high from Aug. 15.
Its reputation for delivering heightened investor anxiety is inextricably linked to the two worst single days in market history, in 1929 and 1987, and more recently the 17 percent rout during the financial crisis in October 2008 that was the most in 21 years. Those have been shown to be outliers, as investors have tended to reward companies during the third-quarter earnings season, particularly technology, health-care and consumer-discretionary stocks that have notched their best monthly gains on average during the 10th month in data going back to 1991.
"Those stocks, if they have relatively good numbers, they tend to have a bigger pop after earnings," said Frank Cappelleri, executive director at Instinet LLC in New York. That doesn't mean the market will go straight up, he said, noting that the S&P 500 often tests key technical levels before rallying into the end of the month, something that's happened almost 70 percent of the time since 1997. "We could potentially go through some more volatile activity in the market."

While seasonal trends can easily be broken -- September's 0.1 percent decline paled in comparison to weakness that historically has made it the worst month -- they provide a useful backdrop as investors consider end-of-year positioning and the commencement of the quarterly earnings next week, Cappelleri said.
Stocks have gotten off to a rocky start to October, with the S&P 500 slipping 0.8 percent over two days and the CBOE Volatility Index of investor anxiety rising as high as 14.57 after averaging 13.27 over the prior quarter. Confidence has been shaky in the past week amid concerns over Europe's banking sector, and Deutsche Bank AG in particular. Seattle-based Russell Investments said in a Monday report that further declines would offer an opportunity for investors as the slowly-expanding economy puts a floor under equity prices.
Tuesday's decline in the S&P 500 followed hawkish comments from Federal Reserve Bank of Cleveland President Loretta Mester and Richmond Fed President Jeffrey Lacker, who argued in favor of tightening monetary policy sooner than later. Investors see a 61 percent chance of the Fed raising rates in December, up 11 percentage points from a week earlier.
The higher odds for a rate increase sent Treasury yields rising to a two-week high, damaging the investment case for stocks with high dividend payouts. Utilities tumbled for an eighth day, sliding 2.2 percent to a five-month low, while phone and real-estate shares dropped at least 1.5 percent. The three have the highest yield relative to their dividends among 11 groups in the S&P 500.
The best dollar rally since Sept. 16 weighed on energy and raw-materials producers, while rising bond yields lifted banks on speculation higher rates will boost their profits. The Dow Jones Industrial Average lost 85.40 points, or 0.5 percent, to 18,168.45. The Nasdaq Composite Index slipped 0.2 percent. About 7.3 billion shares traded hands on U.S. exchanges, 11 percent above the three-month average.
The next corporate earnings season unofficially kicks off when Alcoa Inc. reports results next week. Analysts forecast a drop of 1.5 percent in S&P 500 companies' third-quarter profits, which would mark a sixth consecutive three-month decline.
Should that trend hold, October may have trouble living up to its statistical trend as the market's best month. And with an uncertain outcome in the U.S. election keeping investors on the edge of their seats, October's history as the locus for market selloffs could capture attention.
"They affect the data and contribute to the idea that October is a spooky month," said Kevin Caron, a Florham Park, New Jersey-based market strategist and portfolio manager who helps oversee $180 billion at Stifel Nicolaus & Co.
Before it's here, it's on the Bloomberg Terminal.
LEARN MORE