U.S. ELECTION WRAP: Trump Slips in Pennsylvania as Race Reaches 'Frenzy'
Hillary Clinton gets more good post-debate poll news as Trump predicts a "comeback."
By and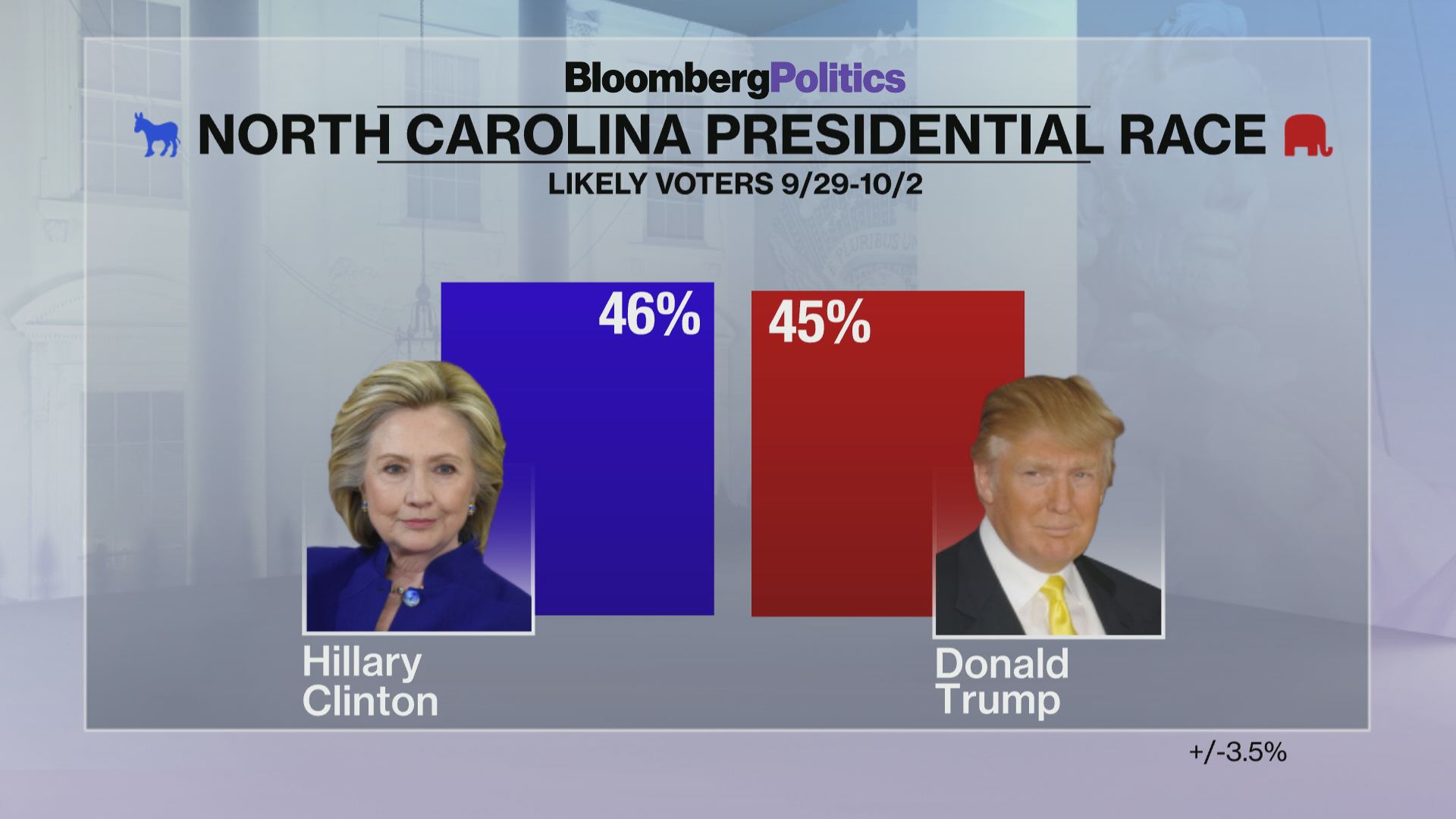 Hillary Clinton has widened her lead in the battleground state of Pennsylvania as Donald Trump continues to slip in some new post-debate swing-state polls.
The Democratic presidential nominee is supported by 47% of likely voters in Pennsylvania vs 38% who back Trump, according to new Franklin & Marshall College poll; in August, the same survey showed Clinton with a narrower 5-point advantage, or 45%-40%
Clinton, who campaigned with daughter Chelsea in Pennsylvania on Tuesday afternoon, has an even wider edge over Trump in a Monmouth University Poll, which shows 50% of likely voters in the Keystone State favoring Clinton vs 40% for Trump

While Clinton has a "pretty substantial" lead in Pennsylvania, she still has a problem in that she's not generating the same kind of enthusiasm among young voters and African Americans as President Obama did in 2012, political scientist Terry Madonna, director of the Franklin & Marshall College poll, said in a phone interview
"Millennials and African Americans just aren't excited about her, particularly millennials," he said. "They don't relate to her"

But Clinton's overall popularity in key areas, such as the Philadelphia region, is offsetting the relatively lackluster support with young and black voters: Madonna
As far as Trump, there is "no doubt" that last week—arguably the worst of his campaign so far—hurt him, according to Madonna, who said his poll was able to capture voter views on controversies such as Trump's kerfuffle with a former Miss Universe
An upbeat Trump told a Monday night rally in Colorado that he performs best when "the chips are down"

"I know how to make a comeback," Trump said
Read full Bloomberg story here

We are now getting into the "frenzy period" of the race, where everything takes on added momentum, Madonna said

The last month can be a "crazy time": Madonna

Among Pennsylvania, Ohio, North Carolina and Florida—all critical battlegrounds targeted by both candidates—Clinton is ahead except in Ohio, Quinnipiac University polls released Monday showed
Of the four states, Pennsylvania is the only one that has consistently backed the Democratic candidate in the last six elections: Madonna

Pennsylvania was the sixth closest state in 2012, with President Obama winning it over Republican Mitt Romney by ~5.4%

As far as Ohio, no Republican has won the presidency without carrying the Buckeye State, and it has sided with the winning White House candidate since 1964

VICE-PRESIDENTIAL DEBATE
Mike Pence faces the bigger test in Tuesday night's vice-presidential debate against Sen. Tim Kaine

Pence, who has served as a buffer between Trump and a nervous GOP establishment, probably will have to address the latest controversies surrounding his running mate, such as leaked tax returns

If you want to know what Trump thinks about the debate then click onto his Twitter feed; the GOP nominee said he plans to live Tweet the VP match up
Pence and Kaine each must abide by the rule of "do no damage," said Madonna, who agrees Pence probably has the more difficult job tonight in defending his running mate

"Pence is a genuine conservative and Trump is not," he said. "Pence also will have to address some of Trump's odder moments"

Bottom line: the VP debate is unlikely to make a difference on Election Day, he said
See Bloomberg story: Six Things to Know About the Pence-Kaine Vice-Presidential Debate

ON THE TRAIL
Clinton and daughter Chelsea fielded questions in Haverford, Pennsylvania as actress Elizabeth Banks played the role of moderator

A 15-year-old girl asked the Democratic candidate how, if elected to be the first female U.S. president, she would approach the issue of the societal pressure girls and women face in regards to their physical appearance
Clinton said Trump has taken the thorny issue of female attractiveness to a "new level of difficulty and meanness"
"It's shocking when women are called names and judged solely on the basis of physical attributes," Clinton said
"Think about it: my opponent insulted Miss Universe. I mean, how do you get more acclaimed than that? But it wasn't good enough. So we can't take any of this seriously anymore. We need to laugh at it, we need to refute it, we need to ignore it and we need to stand up to it": Clinton
"There are too many women being bullied online about how they look," she said. "Sometimes that leads to tragic outcomes"

Clinton also pushed back against the claim that she wants to "do something" to the Second Amendment

"That's totally untrue," she said. "I respect the right of responsible people to own guns, but I want to do what I can to keep guns out of the hands of people who shouldn't have them in the first place and end up hurting others or themselves"
Clinton's campaign said Sen. Bernie Sanders will stump for his former Democratic primary rival in Maine on Friday

The visit may sound unusual on the surface, as Maine is not typically considered a swing state; but Maine is in the spotlight this year because it's one of just two states—Nebraska being the other—that don't award all their Electoral College votes to the statewide winner
This year there is a fight for the electoral vote in Maine's Second Congressional District, Wall Street Journal reported on Monday in a piece looking at how Maine could decide the election
Clinton running mate Tim Kaine will go to Las Vegas Thursday to urge Nevadans to register to vote before an Oct. 8 deadline, while Chelsea Clinton is set to go to Minnesota and encourage voters there to vote early
Hurricane Matthew prompted President Obama to postpone a plan to campaign for Clinton in Miami Gardens, Fla., on Wednesday
Trump is set to stump Tuesday afternoon in Arizona

ADVERTISING
Some wealthy Republicans have started to open their wallets to help Trump, USA Today reported

Two groups aligned with the TD Ameritrade founder J. Joe Ricketts and his family—a super-PAC and a nonprofit whose donors remain anonymous—are ratcheting up efforts to thwart Clinton with mailers and ads in Florida, Nevada, Pennsylvania and Ohio
Nevada casino magnate Sheldon Adelson is among the donors, although his aides have not confirmed reports that he's committed as much as $25 million to the effort: USA Today
NOTE: The Ricketts family owns the Chicago Cubs
While Trump and his allies devote more resources to advertising, Clinton holds a 4-to-1 ad-spending advantage, NBC News reported, citing data from Advertising Analytics
Through this week, Clinton campaign has spent $113 million on ads, vs $27 million for the Trump camp; when outside groups are included, the Clinton team's ad spending is $189 million, compared with Trump's $50 million

MORE POLLS
Clinton leads Trump 44.5%-38.7% in key swing state of North Carolina, up from a virtual tie 2 weeks ago, according to Elon University poll
In Illinois, Clinton has 53% to Trump's 28%, according to Southern Illinois University Carbondale poll

THIRD PARTIES
Libertarian Gary Johnson pushed back on a question from MSNBC's Andrea Mitchell on whether he might drop out of the race if polling started to show he might be taking enough votes away from Clinton to elect Trump

ETC
Energy executives in Denver on Tuesday warned Trump, who has said he supports letting local residents vote on fracking bans, that state regulations are thwarting oil and gas development

The Republican nominee's meeting could be designed to assuage industry concerns provoked when he told a Denver TV station in July that "if a municipality or state wants to ban fracking, I could understand that," adding that "voters should have a say" in the issue

Jack Kingston, a former Republican congressman from Georgia who advises Trump, has been hired to lobby for group seeking removal of Syrian President Bashar al-Assad, Washington Post reported
House Speaker Paul Ryan told the Detroit Free Press that Trump's leaked tax information probably won't hurt him

Using operating losses for tax purposes is common in real-estate business, Ryan said

Between 2011 and 2014, Trump sent at least $286,000 through his foundation "to influential conservative or policy groups," RealClearPolitics review of foundation's tax filings found
Wikileaks founder Julian Assange said his organization plans to publish material every week for the next 10 weeks on war, arms, oil, Google and the U.S. election; he spoke via videolink to an event in Berlin marking the 10-year anniversary of WikiLeaks
A New York-based venture capital firm that has invested in companies like Twitter, Tumblr and Zynga has endorsed Clinton, The Hill reported

The endorsement marks a first for 13-year-old Union Square Ventures; the firm criticized Trump's immigration plan

Drafts of never-filed indictments against Clinton, created during the special prosecutor-led Whitewater probe while her husband was president, will remain archived, a U.S. judge said
Hispanic voters' requests for mail ballots are up 73% in Florida compared to this point in 2012 and 43% in N.C., Clinton's campaign says in "field report" memo

CONGRESSIONAL ELECTIONS
SENATE RACES (Republicans hold 54-46 majority)


FL: Republican Sen. Marco Rubio's campaign released Spanish-language TV ad branding Democratic Rep. Patrick Murphy as ineffective, while also promoting Rubio's record on foreign policy, education, taxes

Attack on Murphy cites 2015 InsideGov story that calculated "effectiveness score" based on how many of a member's sponsored bills were approved by committee; that's "not a sufficient way to rate a member's effectiveness," according to Politifact
IL: Democratic Rep. Tammy Duckworth leads Republican Sen. Mark Kirk 48%-34% in poll conducted Sept. 27-Oct. 2 of 865 likely voters by the Paul Simon Public Policy Institute at Southern Illinois University Carbondale

Independent Voice for Illinois PAC, a pro-Kirk super-PAC, released TV ad saying Duckworth "failed veterans" and "put her political career first" when she led state veterans' department under Democratic Gov. Rod Blagojevich
IN: Democrat Evan Bayh's campaign released TV ad saying he "went to work" in the Senate to rescue automobile-industry jobs by "forcing both parties to come together to keep Indiana working"

Ad cites Bayh's Dec. 2008 vote to advance auto bailout; though that failed in the Senate, President George W. Bush and Congress provided aid to auto companies through Troubled Asset Relief Program (TARP)
Bayh seeking to reclaim seat he held from 1999 to 2011; he and Republican Rep. Todd Young vying to succeed retiring GOP Sen. Dan Coats
LA: Republican Rep. Charles Boustany in TV ad said he'll bring to the Senate the same "ruthless accountability" demanded of him as a heart surgeon

Boustany among 24 candidates of all parties running in Nov. 8 primary for retiring Republican Sen. David Vitter's seat; Dec. 10 runoff likely
NH: Republican Sen. Kelly Ayotte's "Trump agony continues" even after she said she "misspoke" in debate last night by saying Trump "absolutely" would be a role model for New Hampshire children, Washington Post reported

Ayotte, who has said she'd vote for Trump without formally endorsing him, is in tight race with Democratic Gov. Maggie Hassan that will help determine which party wins Senate majority
Clinton favored to defeat Trump in N.H., which has voted Democratic in three straight presidential elections, including 52%-46% for Obama in 2012
OH: Republican Sen. Rob Portman began this month with more than $7.6m in campaign cash-on-hand after raising more than $4.5m in Q3, according to campaign release

Portman has moved out to a clear lead over Democratic ex-Gov. Ted Strickland, according to nonpartisan analysts

HOUSE RACES (Republicans hold 246-186 majority)


AK-Statewide: Democrat Steve Lindbeck's campaign released TV ad invoking Republican Rep. Don Young's controversial 2014 comments at an Alaska high school where a student had taken his own life, when the congressman said the student's suicide showed a lack of support from friends and family.

"I don't know why anyone would do that, or why he's still our congressman," according to ad's narrator, a young man from Wasilla who says he was a friend of the deceased
Young, the 2nd longest-serving House Republican in history, first elected March 1973 and seeks 22nd full term against Lindbeck, a former public radio executive
CA-07: National Republican Congressional Cmte released TV ad saying Democratic Rep. Ami Bera "can't be trusted" after his father was sent to prison for making illegal contributions to his son's campaign

Justice Department last month said it concluded its investigation without bringing additional charges; Bera said he was unaware of his father's illegal activity
Ad also promotes Republican nominee Scott Jones, the sheriff of Sacramento County, which contains all of CA-07
CA-49: Republican Rep. Darrell Issa "faces a tougher-than-expected challenge" from Democrat Doug Applegate in southern Calif. district where Democrats have narrowed GOP's once-overwhelming advantage in voter registration, Associated Press reported

District includes Oceanside, Carlsbad and voted 52%-46% for Mitt Romney over Obama in 2012 and 55%-45% for Republican Neel Kashkari over Democratic Gov. Jerry Brown in 2014
CO-06: NRCC in TV ad said Democratic state Sen. Morgan Carroll "ran up $11 billion in new spending" and is "wrong on spending, wrong on taxes, wrong for Colorado"

Carroll's campaign in statement denounced "desperate and misleading attack" and cited Politifact analysis of similar NRCC ad the fact-checking group said "exaggerates Carroll's responsibility for the budget increase"
Carroll, who previously served as Colorado Senate president, is seeking to unseat four-term Republican Rep. Mike Coffman in politically competitive suburban Denver district
MN-02: Republican Jason Lewis said in TV ad that "I may not be politically correct, but I won't back down from the tough issues"

Lewis, a former radio talk-show host, opposed by Democratic health-care executive Angie Craig for politically competitive district of retiring Republican John Kline, who preferred different Republican candidate in primary
House Democratic Leader Nancy Pelosi will appear at Minneapolis fundraiser Oct. 10 for Craig and MN-03 Democratic nominee Terri Bonoff, Minnesota Public Radio's Brian Bakst wrote on Twitter
NY-21: Republican Rep. Elise Stefanik, Democrat Mike Derrick, and Green Party nominee Matthew Funiciello debated yday on Time Warner Cable News

Stefanik, who at 30 in 2014 became youngest woman ever elected to Congress, favored to win 2nd term in competitive and geographically vast district that includes N.Y.'s North Country
Before it's here, it's on the Bloomberg Terminal.
LEARN MORE