U.S. Break-Even Rate Jumps on Oil as Mester Pushes for Fed Hike
by and
Odds of Fed rate increase climb to highest since Sept. 21 meet

New York's Dudley urges caution in raising interest rates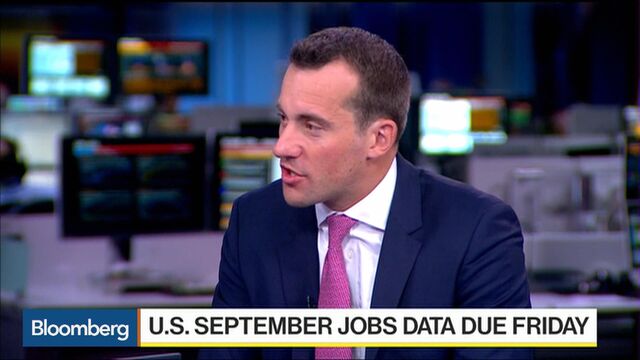 A Treasury market gauge of inflation expectations climbed to a four-month high as Federal Reserve Bank of Cleveland President Loretta Mester said that the economy is ready for higher interest rates.
The difference between yields on 10-year notes and equivalent-maturity Treasury Inflation Protected Securities -- known as the break-even rate -- reached the highest level since May 19 at 1.64 percent Monday, as oil rose above $49 for the first time in almost three months. Mester said in a Bloomberg Television interview the same day that she expects inflation to move back toward the Fed's 2 percent target over the next couple of years, and a "preemptive" rate hike would be appropriate. Traders assign 17 percent odds of Fed tightening at the November meeting, and a 61 percent chance of action by year-end.
"We're once again focused on crude in the very near-term with the obvious implications for inflation expectations and the longer-end of the curve," Ian Lyngen, a New York-based independent analyst who was voted among the top Treasuries strategists for 2016 in an Institutional Investor poll in July, wrote in a report. "It certainly isn't going to be an inhibition" for the Fed from raising interest rates again, the report said.

The 10-year Treasury yield was little changed at 1.63 percent at 7:04 a.m. in London from Monday, when it completed a two-day six-basis-point increase. The price of the 1.5 percent note due August 2026 was 98 27/32. Australia's 10-year yield jumped 16 basis points to 2.07 percent, while Japan's was little changed at minus 0.075 percent.
Compelling Case
The U.S. 10-year break-even rate was at 1.63 percent, from as low as 1.55 percent at the end of last month.
"I would expect that the case would remain compelling" for a rate increase when the Federal Open Market Committee gathers in Washington Nov. 1-2, Mester told Bloomberg's Kathleen Hays. "We've learned over history that the Fed should be looking ahead and not just waiting."
Mester was one of three voters on the FOMC to dissent in favor of hiking when policy makers decided on Sept. 21 to leave interest rates unchanged. Following the meeting, Fed Chair Janet Yellen said she didn't see any evidence that low unemployment was triggering faster inflation that required an increase.
Gauging the Fed
The odds implied by fed funds futures for tighter policy by year-end are the highest since that meeting at 61 percent, and dropped below 50 percent a week ago. The Fed could raise the interest rate once in 2016, Bank of Korea Governor Lee Ju-yeoul said during a parliament audit in Seoul on Tuesday.
Fed New York President William Dudley suggested on Monday the central bank should be cautious in raising interest rates, given limits on its ability to respond to a recession with borrowing costs close to zero.
"The message from the Fed speakers remain mixed," BNP Paribas SA strategists including New York-based Daniel Katzive wrote in a report. "We think the Fed will go ahead with a December hike, but there is still considerable uncertainty and data to traverse between now and then, and we do not expect a rapid adjustment higher in pricing."
Before it's here, it's on the Bloomberg Terminal.
LEARN MORE