U.K. Stock Gauges Hit Simultaneous Highs 1st Time Since '99
by
Pound extends its decline, falling to the lowest since 1985

Gauge tracking economic surprises is near a three-year high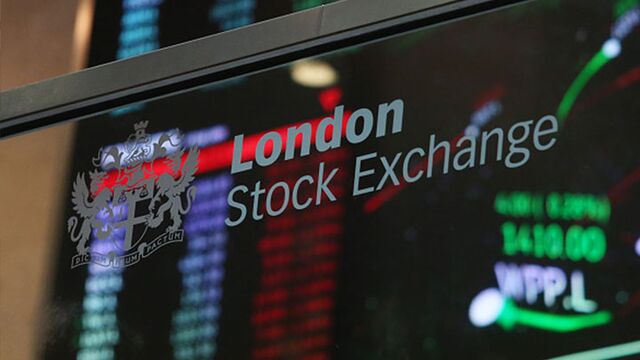 For the first time in almost 17 years, U.K. equity gauges of large-, mid- and small-cap shares reached records on the same day.
A tumbling pound and better-than-forecast economic data have been a boon for the nation's stocks since Britons voted in June to leave the European Union. On Tuesday, the FTSE 100 Index of megacaps, the FTSE 250 Index of medium-sized companies and a FTSE gauge of small caps reached all-time highs. The last time the three gauges were at peaks on the same day was on Dec. 30, 1999.
"It's not just the FTSE 100 -- this is a buy U.K. phenomenon," said Alan Higgins, chief investment officer at Coutts & Co. in London. His firm oversees 14.6 billion pounds ($19 billion). "We have a really nice combination of sterling weakness, reasonably robust economy and generally not a bad environment for risk assets."

The FTSE 100 and the FTSE 250 climbed 1.8 percent at 3:06 p.m. in London, while the FTSE Small Cap excluding investment trusts index advanced 1.7 percent.
The falling pound is helping the three gauges because their members get a big chunk of their revenues from overseas -- almost three-quarters for FTSE 100 companies, and about half for those on the FTSE 250, according to JPMorgan Chase & Co. and UBS Group AG. JPMorgan Asset Management has estimated the measure of smaller shares also gets about half of its sales from abroad.
The pound fell to its lowest level since 1985 on Tuesday, surpassing the bottom reached following the June 23 vote, after three senior figures in Prime Minister Theresa May's administration said financial-services companies will get no special favors in secession talks. That increased concern that the nation is heading for an exit that would restrict access to the EU's single market. May said on Sunday she will trigger the process of leaving the bloc by the end of March, which will mark the formal start of a two-year negotiation process.
Recent data have reinforced optimism that the domestic economy is weathering the aftermath of the vote. The construction industry unexpectedly grew in September, while a manufacturing gauge jumped to its highest level in more than two years. A Citigroup Inc. index tracking economic surprises in Britain is near a three-year high, and the International Monetary Fund upgraded its outlook for the nation, predicting growth of 1.8 percent this year from the 1.7 percent projected in July.
That's led to analysts tempering their estimates for profit contractions at U.K. companies. While they're still projecting earnings at FTSE 100 members will slide 3.2 percent in 2016, that's better than the 8.5 percent drop they expected in June. They see growth of more than 10 percent for each of the next three years.
After four years of underperformance, U.K. shares have become the highlight of Europe, when looked at in local currency terms. The FTSE 100 has surged 14 percent in 2016, while the regional Stoxx Europe 600 Index is still down 5.2 percent.
Since the low in the aftermath of the referendum, all but seven companies in the benchmark index have gained. Miners Anglo American Plc and Glencore Plc jumped more than 58 percent, while homebuilders Barratt Developments Plc and Persimmon Plc surged at least 43 percent. Lenders also rallied, with HSBC Holdings Plc rising to its highest price in more than a year, while Standard Chartered Plc approached its highest since last November. Both firms get more than 40 percent of their revenues from Asia.
"It's more than just a sterling weakness story," Higgins said. "Economic data has actually been strong. There is a bit of a catching up here."
Before it's here, it's on the Bloomberg Terminal.
LEARN MORE