U.K.'s May Expects Saudis to Probe Allegations of Arms Misuse
Thomas Penny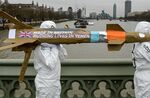 Prime Minister Theresa May said she has asked Saudi Arabia to probe allegations that British-made weapons have been used in its military intervention in Yemen.
Asked if Britain should halt arms sales to the kingdom, May said the U.K. has one of the most stringent regimes governing the suitability of arms exports.
"I have been very clear personally with Saudi Arabia that we expect these issues to be properly investigated and, if necessary, lessons to be learnt," May said in an interview with BBC TV's "Newsnight" show. "But what is important in foreign policy, first of all, is that we consider what is in the British national interest."
Saudi Arabia accounted for almost 3 billion pounds ($3.8 billion), or almost 40 percent, of U.K. arms sales in the nine months through December, according to a report by the House of Commons International Development Committee in May. Saudi Arabia made up about 22 percent of BAE Systems Plc's revenue in the year through December, data compiled by Bloomberg show.
Before it's here, it's on the Bloomberg Terminal.
LEARN MORE