U.K. Puts Onus on Banks, Companies to Cut Migrant Numbers
By and
Lenders will have to check clients aren't illegal immigrants

Rudd looking at tougher tests before work visas are issued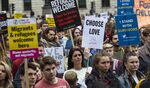 Britain is to make it harder to employ people from overseas, to supply them with banking services or to rent them property, in an effort to dramatically reduce the level of immigration.
Speaking to the governing Conservative Party's conference in Birmingham, central England, Home Secretary Amber Rudd reaffirmed the government's commitment to reduce net migration to "tens of thousands" as the U.K. heads for a future outside the European Union. It was a near-record 327,000 in the year through March.
To help achieve that goal, landlords who knowingly rent property to illegal immigrants would face prison, Rudd said on Tuesday. Banks will also have to check their clients are allowed to be in the country. She said she's looking to toughen the conditions that companies have to meet before getting a visa for a foreign worker.
"The test should ensure people coming here are filling gaps in the labor market, not taking jobs British people could do," Rudd said. "But it's become a tick-box exercise, allowing some firms to get away with not training local people. So I want us to look again at whether our immigration system provides the right incentives for businesses to invest in British workers."
'Lower-Quality' Courses
In a further move, Rudd said she's examining toughening up rules on letting in foreign students to take "lower-quality" college courses. "The current system allows all students, irrespective of their talents and the university's quality, favorable employment prospects when they stop studying," she said. "We need to look at whether this generous offer for all universities is really adding value to our economy."
Even amid the new measures, reductions in the number of migrants "will not happen overnight," the home secretary said. 
The announcements drew criticism from the Institute of Directors business lobby group.
"It was frustrating to hear the home secretary sticking to the arbitrary 'tens of thousands' target, which has no connection to the skills the U.K. needs or the actual impacts of migration," the IoD's head of employment, Seamus Nevin, said in a statement. "The U.K. has a record level of employment, so immigration is not hurting jobs. IoD members who employ migrants also train British workers."
'Welcome Steps'
By contrast, Migration Watch U.K., which campaigns to lower migrant numbers, said Rudd had provided "very welcome steps forward."
Turning to another area of her responsibility, Rudd pledged more powers for law-enforcement agencies to deal with money laundering in an effort to cut off funds for terrorists.
"Laundering that volume of money seriously undermines the integrity and reputation of our financial markets," she said. "It includes the very institutions that hard-working taxpayers like you depend on for your pensions and savings."
Before it's here, it's on the Bloomberg Terminal.
LEARN MORE