Spanish Socialists' Survival at Risk, Caretaker Leader Says
by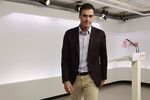 The 137-year-old Spanish Socialist Party is in danger of disappearing as a political force unless it can heal its divisions, interim chief Javier Fernandez said.
Party officials "need to be concerned about the survival of the party," Fernandez said in an interview on Cadena Ser radio three days after former leader Pedro Sanchez was ousted following an internal revolt.
The Socialist Party has lost almost 6 million votes, more than half its support, since winning the 2008 election and suffered record defeats under Sanchez in successive ballots in December and June. After ditching Sanchez, the party leadership has to decide whether to let Mariano Rajoy's People's Party take power for a second term -- a move that will enrage the party's rank-and-file -- or to force another election.
Fernandez said a third election would be the worst option for the Socialists and Rajoy's PP would likely increase its vote.
Before it's here, it's on the Bloomberg Terminal.
LEARN MORE