South Africa's Gordhan Says Probe Is 'Political Mischief'
By , , and
No communication from police, prosecutors since late August

Motive for probe may be that Treasury is 'too diligent'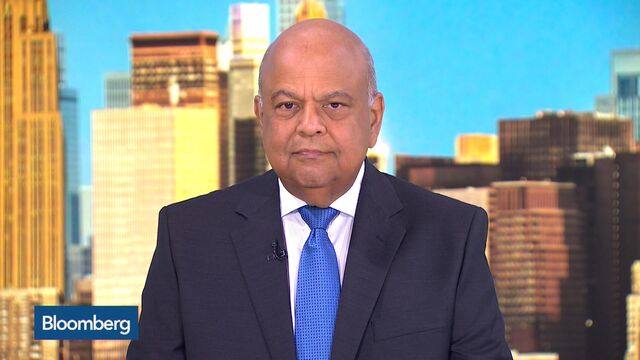 South African Finance Minister Pravin Gordhan said the police investigation into him is nothing but "political mischief" and will be resolved soon.
"As far as the so-called investigation is concerned, that's no more than a bit of political mischief, which every country will have," Gordhan said in an interview with Bloomberg TV in New York Tuesday. "I'm sure we in South Africa will resolve these issues."
Reports in August that he is being investigated by the police for overseeing the establishment of an allegedly illegal investigative unit when he led the Revenue Service between 1999 and 2009 hit the rand and bonds. The police and National Prosecuting Authority haven't made contact with him since the week of Aug. 22, when he was ordered to present himself to the Hawks, a special police unit, Gordhan said.
"They can't make up their minds at the moment," he said. "The latest news in the media is that they believe they don't actually have a case." Later, he told Bloomberg Radio "they're wasting their time, they have better eggs to fry."
Leading Efforts
The minister led efforts earlier in the year boost the confidence in the economy. Gordhan is in New York with a delegation of business leaders and central bank Governor Lesetja Kganyago for a conference with investors Tuesday and Wednesday. The currency slumped in August amid concern Gordhan would lose his job as a struggle over the government's purse strings intensified.
"The motive may well be that Treasury has too diligent an eye on certain transactions that parts of the state might want to undertake, and those are sometimes big numbers," Gordhan said. "We believe that we have a job to do, we have a law to pursue and implement and we have a constitution to abide by."
The country is at risk of losing its investment-level credit status as S&P Global Ratings and Fitch Ratings Ltd. review their assessments in December. Both rate South Africa's debt at one level above junk and S&P has a negative outlook on its rating.
The South Africa remains an "easy sell" to foreigners, Gordhan said.  "We will convince the ratings agencies, together with business and labor, that if they give us more time as partners in the South Africa quest for high growth and more jobs being created, we can produce successful results," he said.
The rand weakened 0.4 percent to 13.6453 per dollar at 3:21 p.m. in Johannesburg on Tuesday. Yields on rand-denominated government bonds due December 2026 fell five basis points to 8.53 percent.
Africa's most-industrialized economy expanded an annualized 3.3 percent in the three months through June, after contracting 1.2 percent in the prior quarter, as mining and manufacturing output rebounded. The central bank, which had predicted no growth this year, increased its forecast for expansion to 0.4 percent in 2016 at its Sept. 22 meeting.
"We are certainly going to be above the zero mark," Gordhan said. The economic downturn has "bottomed out," he said.
— With assistance by Arabile Gumede
Before it's here, it's on the Bloomberg Terminal.
LEARN MORE