Polish Lawmakers Retreat From Total Abortion Ban After Protests
By
Policy reversal follows 100,000-strong street demonstrations

Ruling party says it may seek to tighten abortion laws later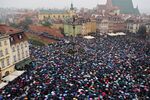 Poland's ruling Law & Justice party, responding to a wave of protests, stopped supporting legislation to ban all abortions and set jail terms for women who end their pregnancies prematurely.
In one of the biggest policy climb-downs since winning power 11 months ago, Law & Justice lawmakers on Wednesday voted down the same measure they passed two weeks earlier, sending it back to the lower house of parliament for a final vote. The move follows "Black Monday" marches -- named for the color of demonstrators' attire -- where about 100,000 people, mostly women, took to the streets to protest the proposed law change.
"We had to stop this," Law & Justice lawmaker Witold Czarnecki told Bloomberg by phone. "There are many good ideas in this bill but we had to back off because the opposition was telling everyone that we only want to punish women."
Law & Justice's government has bolstered its popular support by twinning unprecedented social handouts with railing against the influence of the European Union, foreign companies and independent institutions. But when it backed a draft law calling for a total ban on abortions two weeks ago, it triggered a mass movement against tightening what is already one of the EU's most restrictive laws.
Law & Justice may prepare a new bill that would not be as restrictive as the one it just voted down, but still tighten existing regulations, party spokeswoman Beata Mazurek told reporters in parliament.
Pandora's Box
"A Pandora's box of sorts has been opened," Olgierd Annusewicz, a political scientist at Warsaw University, said by phone on Tuesday. "The pace at which this movement organized itself, its appeal to younger voters and those who weren't interested in politics until now, as well as the fact that parliamentary work on abortion is just beginning, all mean that Law & Justice can't ignore it."
Law & Justice has drawn criticism from fellow EU countries and clashed with the bloc's executive for backsliding on democratic norms, including prompting the first-ever probe into rule of law in a member state. While the party has faced protests for its departure from the previous government's pro-European path, its public support has remained high. That may be changing, however, following the outcry against the draft abortion law.
Support for Law & Justice declined 3 percentage points in a month to 29 percent, according to an IBRiS poll conducted among 1,100 adults on Sept. 29. The survey showed 57 percent of Poles declared their intention to participate in the next election, not normally due until 2019, up from 50 percent in August. Law & Justice won 38 percent of the popular vote a year ago, with 51 percent of voters taking part.
'Half-Witted Slogans'
The opinion survey came a week after the ruling party backed a church-based group's legislative initiative to ban all abortions and impose jail sentences of up to five years on women who end their pregnancies and anyone who helps them. Poland already forbids the procedure except in cases of rape or where the lives of the mother or foetus are in danger.
Law & Justice's initial reactions to Monday's rallies were dismissive, with Foreign Minister Witold Waszczykowski telling TVN24 that the protests were "marginal in scale" and that demonstrators had "yelled half-witted slogans" instead of engaging in serious discussion.