Photographer: Krister Soerboe/Bloomberg
Stimulus Seen Fading in Norway as Economy Survives Oil Crash
by
Rise in crude prices signals increased income next year

Government seen boosting oil money spending at slower pace
The Norwegian government is seen rolling back some its massive fiscal stimulus amid signs the economy of western Europe's largest oil producer is on the mend.
The government will unveil stimulus substantially below the 1.1 percentage point push it provided this year, according to economists at Svenska Handelsbanken and DNB ASA. Conservative Prime Minister Erna Solberg is on Thursday presenting her last budget ahead of next year's election.
"The need to give extra gas in fiscal policy is significantly reduced by the macro picture we are now seeing," Oeystein Doerum, chief economist at DNB, said by telephone.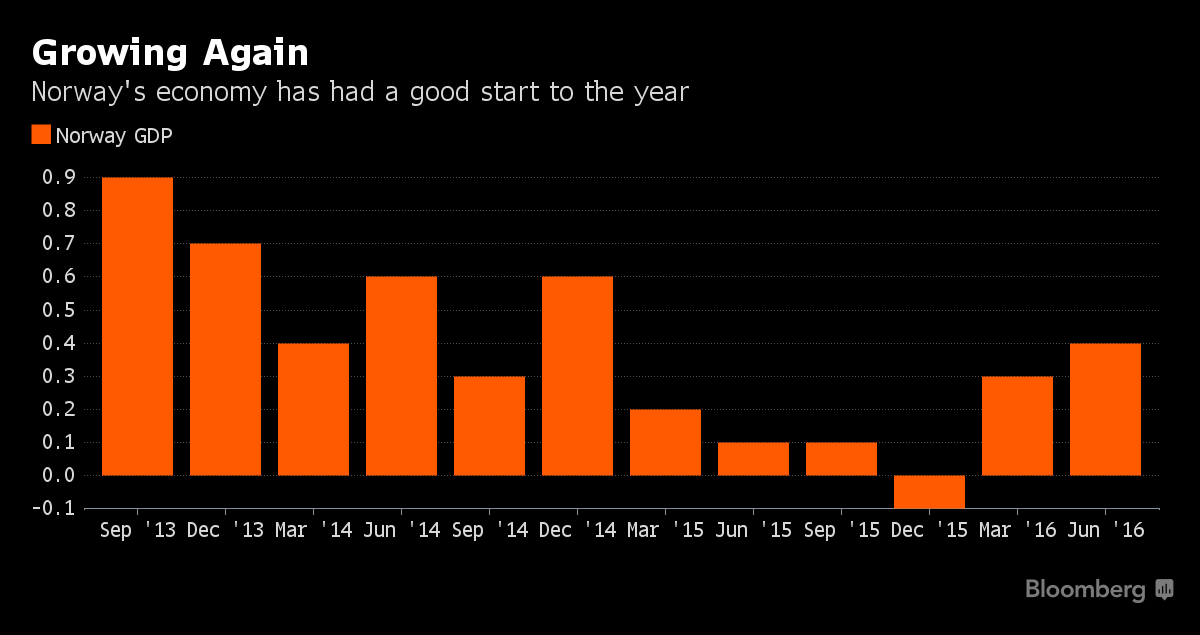 The government is spending a record amount of its petroleum revenue to shore up the economy. For the first time, it's reaching directly into its $890 billion sovereign wealth fund, withdrawing an estimated 84 billion kroner ($10.5 billion) to cover budget needs while keeping well within a rule that limits oil money spending to 4 percent of the fund's value.
Still, the so-called structural oil corrected deficit -- or oil money spending -- is expected to grow from this year's estimated 206 billion kroner. The big question is if the government will have to dig even deeper into its piggy bank. It has this year predicted about 130 billion kroner in net income from its petroleum industry, down from more than 300 billion just two years ago.
Given forward oil prices, income from oil activity "won't rise much next year," said Kari Due-Andresen, chief economist at Handelsbanken in Oslo.
"We are very unsure of how strong the recovery" for the Norwegian economy will be, she said. "But it's natural to expect less stimulus next year than what we saw this year."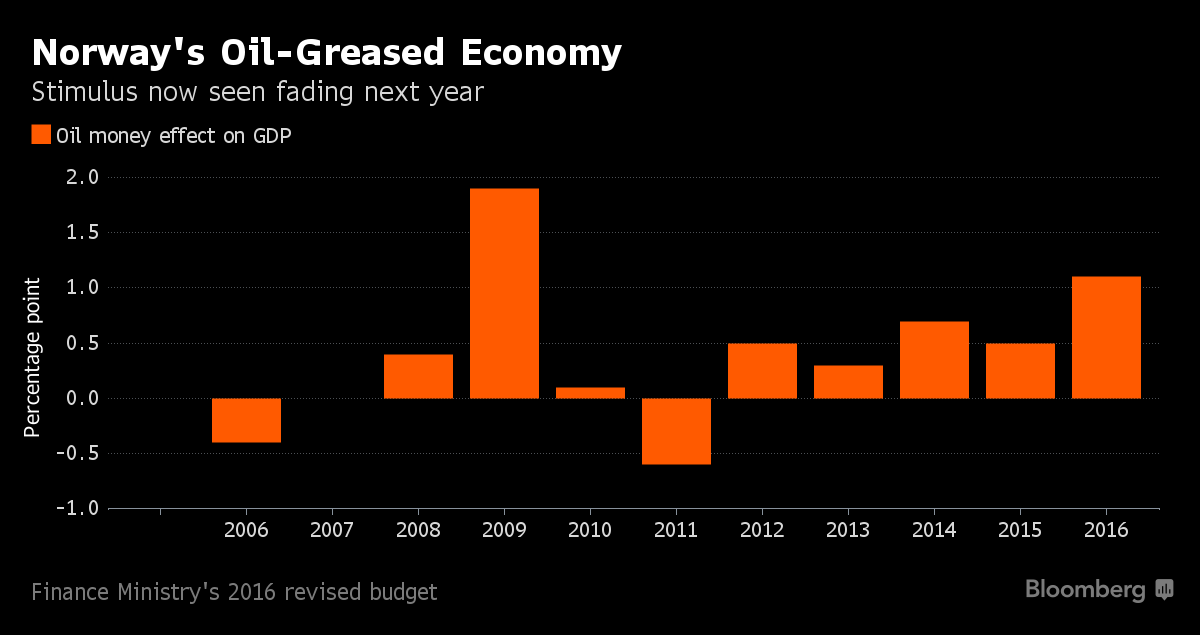 The central bank last month kept its key policy rate unchanged at a record low and largely shelved plans to ease further. It has cut rates to 0.5 percent and has also predicted a fall-off in stimulus next year.
The krone slid 0.1 percent to 8.98 per euro as of 3:36 p.m. in Oslo. It has risen almost 3 percent since the central bank's latest rate decision on Sept. 22.
Newspaper Dagens Naeringsliv this week reported that the stimulus would ease to 0.4 percentage point next year. Given current estimates, that would mean oil money spending equal to 7.9 percent of gross domestic product.
A budget impulse of that size would be a "little tighter" than what the central bank had predicted, said Due-Andresen.
Solberg has signaled that next year's spending plan will be a budget for "labor, activity and reorganization." She's trying to strike a balance between how much oil wealth to use while reducing Norway's reliance on petroleum.
The labor market has also showed signs of a recovery, with registered unemployment falling to 2.8 percent. But there are large differences with unemployment still rising in oil industry regions. A worrying development is also the widening gap between registered and surveyed unemployed, reported at 5 percent in September.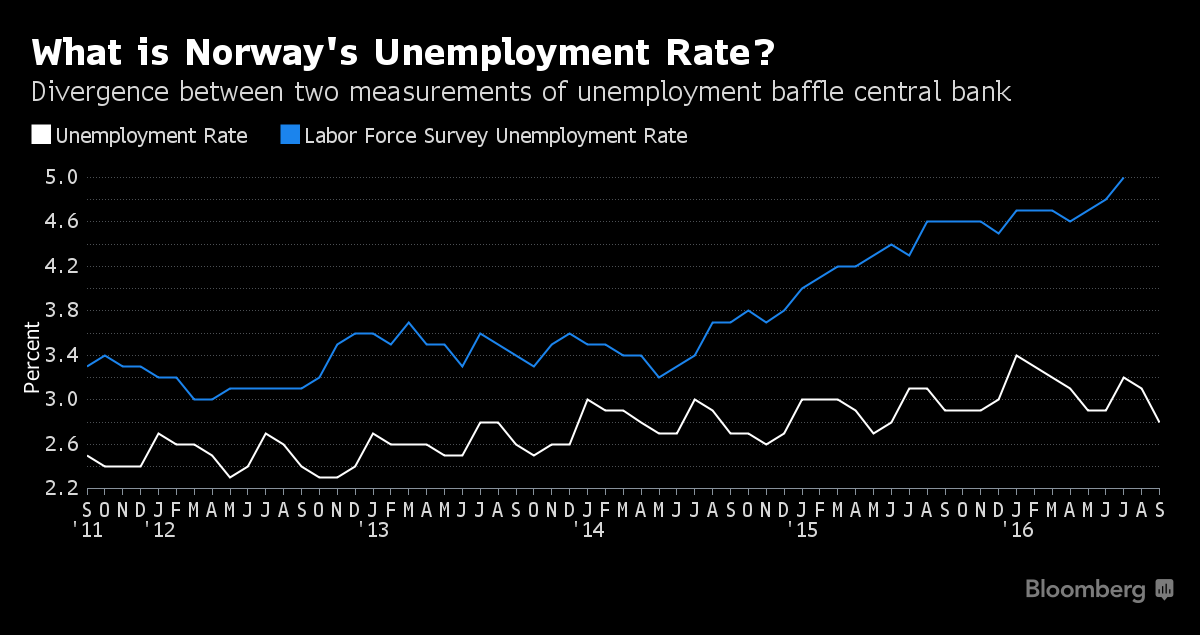 The minority government needs backing from the smaller Liberal Party and the Christian Democrats to pass the budget. They have also signaled that oil money spending is reaching its limits.
For DNB's Doerum, easing up on stimulus is prudent.
"If one continues to spend a little more money than what is sustainable long-term, then the subsequent tightening will be much stronger and harder, if not impossible," he said.
Before it's here, it's on the Bloomberg Terminal.
LEARN MORE