Migrants in Serbia Head for Hungary, Want Open Border, Blic Says
by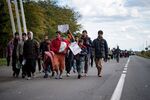 Several hundred migrants protested in Serbia's capital and about 300 set off for Hungary, calling for the European Union country to the north to open its border after Prime Minister Viktor Orban erected a fence there to keep out refugees.
QuickTake Europe's Refugee Crisis
Migrants mostly from Iraq, Afghanistan and Pakistan demonstrated in Belgrade, demanding Hungary open its frontier and waving signs saying "We want peace," Blic newspaper reported. The protest followed a failed referendum in Hungary introduced by Orban's government against mandatory EU quotas for hosting refugees. While more than 98 percent of voters rejected the quotas, turnout too low to make the plebiscite valid.
Serbian President Tomislav Nikolic said on Monday that his country might be forced to close its own borders against refugees if other countries do the same. More than 6,000 migrants are believed to be stranded in Serbia, unable to continue on toward EU countries.
Before it's here, it's on the Bloomberg Terminal.
LEARN MORE