May Looks Beyond Brexit to Portray Herself as Workers' Tribune
By
Closing speech to conference will focus on 'ordinary people'

Prime minister pledges to speak for marginalized Brexit voters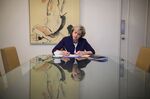 Theresa May will attempt to move past the difficult questions of Brexit in a speech on Wednesday that pitches her government as the champion of Britain's struggling working classes.
The pound has fallen 1.8 percent to a 31-year low against the dollar since the start of her Conservative Party's annual conference amid investor concern that Britain could be heading for a "hard Brexit," with little accommodation for the finance industry. Banks warned Tuesday that 70,000 jobs and 10 billion pounds ($13 billion) in tax revenue are at risk, while the International Monetary Fund cut its forecast for U.K. economic growth next year, noting the Brexit uncertainty.
Follow @Brexit for the latest news, and sign up to our Brexit Bulletin for a daily roundup.
But in her closing speech to the conference in Birmingham, central England, May will focus instead on domestic matters, seeking to address the voter concerns that drove the surprise vote in June to leave the European Union.
"Just listen to the way a lot of politicians and commentators talk about the public," the prime minister will say, according to speech extracts released by her office. "They find their patriotism distasteful, their concerns about immigration parochial, their views about crime illiberal, their attachment to their job security inconvenient. They find the fact that more than 17 million people voted to leave the European Union simply bewildering."
To watch May's speech in full, click here.
Shift in Tone
May's comments mark a change of emphasis from the views of her predecessor. In his 11 years as Tory leader, David Cameron argued that the party needed to show that it was in touch with modern Britain by focusing on climate change and gay rights. May, by contrast, argues that the party needs to reach "ordinary working-class people."
She'll say she sees the role of the government as providing "what individual people, communities and markets cannot." And she'll argue that this means "providing security from crime, but from ill health and unemployment too. Supporting free markets, but stepping in to repair them when they aren't working as they should. Encouraging business and supporting free trade, but not accepting one set of rules for some and another for everyone else."
Except in home affairs, the brief that May occupied until she became prime minister in July, the conference has been light on policy. Home Secretary Amber Rudd set out a series of measures on Tuesday to discourage immigration, but otherwise the talk in the bars and fringe meetings has been of Brexit, and how it might work. May has tried to impose silence on her ministers, arguing that revealing too much about negotiating positions will damage her strategy in the EU talks. But three senior figures in May's administration said financial-services companies would get no special favors.
The extracts of May's speech suggest she thinks Cameron was too focused on that sector. "If we act to correct unfairness and injustice and put government at the service of ordinary working people," she'll say, "we can build that new united Britain in which everyone plays by the same rules, and in which the powerful and the privileged no longer ignore the interests of the people."
Before it's here, it's on the Bloomberg Terminal.
LEARN MORE