Macron Blasts Political Parties as Heart of France's Problems
by
Former Hollande minister sees Podemos, not Labour as example

His 'En Marche' movement knocking on doors, seeking answers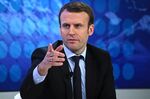 Emmanuel Macron, Francois Hollande's campaigning former economy minister, blasted French political parties for being at the center of the nation's problems as he attempted to set out a diagnosis for the country where growth is lagging and discontent is simmering.
Supporters of "En Marche," the political movement Macron created in April, have knocked on 300,000 doors, spoken to 100,000 people and have had 25,000 extensive surveys filled out on what voters feel isn't working in France. Visiting Strasbourg Tuesday, the 38-year-old former banker began sharing the results of that effort for the first time. They amount to a wholesale critique of the nation's political class.
"Political parties are the heart of the problem," Macron told journalists in an afternoon briefing before a longer address to supporters planned for the evening. "Parties no longer have common ideologies. There are profound internal divisions on subjects such as Europe, and the integration of immigrants, that push them off course."
Deeper Effort
Those short remarks amount to another broadside against President Hollande, who helped put Macron in the public eye. They also belie the younger man's deeper effort to tackle political and economic angst in a country where more than 200 people have died in terrorist attacks in less than two years and the National Front, once ostracized for its racist views, is holding steady at between 25 percent and 30 percent support in polls.
With the first round of the presidential election less than seven months away, former President Nicolas Sarkozy is competing with two former prime ministers and multiple ex-ministers for the nomination of France's center-right party, the Republicans. Hollande, with a record-low approval rating for any French president, is fending off attacks from his own former ministers including Macron, who has yet to say if he will be a candidate.
Three Problems
In his Strasbourg speech, Macron will set out what he sees as three root causes of France's political problems:
disillusionment with democracy as it is practiced in France
a lack of accountability for ministers and presidents
and a lack of effectiveness on the part of government.


While detailed solutions will be set out in two separate speeches later this month, he said that more proportional representation and more decentralization are among the changes that are needed.
It was in his discussion of contemporary French democracy that Macron's critique of the French party system emerged. He sees it more entrenched than ever before.
"If you didn't like the France run by graduates of the top schools, you'll just love the one run by political parties and their operatives," he said. "That's what we're living through now."
Podemos Not Labour
In a wide-ranging discussion, Macron also used the example of Hollande's unfulfilled promise to introduce the vote for foreign residents as an example of what turns people off politicians and politics. He ridiculed presidential candidates for setting out "400 promises," or writing "1,000 pages of policy plans that no one will read."
Presidential candidates should fix their campaigns on between 10 and 12 big ideas that should be debated vigorously, he said.
He denounced the primary system for selecting candidates, noting the widely held assumption that those campaigning for the nomination of their parties will have very different platforms when they are running in the actual election.
Seeking to place his ideas in an international context, the man who has previously said he wants to be France's Tony Blair indicated that he thought the British Labour Party is going in the wrong direction, saying Spain's Podemos is a better model for a modern party.
"If you look at Labour, I don't think they are really trying to renew anything at this stage," he said. "A movement like Podemos shows political vitality."
Podemos failed to meet its own targets in June's election in Spain, holding steady at 71 seats in the 350-strong legislature when it had expected to increase its presence.
Before it's here, it's on the Bloomberg Terminal.
LEARN MORE