Japan Coalition Leader Says BOJ's Negative Rates Stir Confusion
By and
Komeito's Yamaguchi says negative rates hurt savers, banks

Yamaguchi says he wants BOJ to employ a range of policies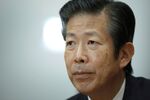 The Bank of Japan's negative interest rate policy has stirred confusion among financial institutions and the public, the party leader of Prime Minister Shinzo Abe's junior coalition partner said in an interview in Tokyo.
The Komeito party's Natsuo Yamaguchi said the central bank's surprise introduction of negative rates in January had achieved an initial impact, but he wanted the BOJ to take advantage of a broader range of policy options.
"There was confusion, especially among private-sector financial institutions, and even more so among ordinary people" when the rates were adopted, Yamaguchi, 64, said on Monday in his Tokyo offices. "It was a blow to people who rely on savings, and financial institutions have had difficulty, especially in managing bonds."
Yamaguchi's comments come after Nobuyuki Nakahara, an economic adviser to Abe, said last week the negative rate policy should be abandoned. The main opposition Democratic Party has also called for it to be dropped. Fitch Ratings said Monday that the rate may go to minus 0.5 percent, from minus 0.1 percent now, by the end of 2017 -- a move it said would weigh on the profitability of commercial banks.
For an explainer on negative rates, click here
In shifting to negative rates, Japan joined the European Central Bank and countries such as Sweden, Switzerland and Denmark. The aim is to spur banks to look elsewhere when lending, preferably to companies and consumers.
Growth, Redistribution
Yamaguchi noted that the BOJ had introduced other policies at its Sept. 20-21 meeting, saying he wanted to monitor whether the central bank is successful with its new approach of trying to control the yield curve. He added the BOJ's failure to reach its 2 percent inflation target was largely due to a fall in oil prices, and that he'd monitor the oil market to see the effects of the agreement by OPEC to trim production.

While Buddhist-backed Komeito holds just 35 of the 475 seats in parliament's lower house, it is seen as an essential source of electoral support for Abe's ruling Liberal Democratic Party. The party frequently lobbies for the interests of lower income groups.
Yamaguchi called for a combination of growth and redistribution policies. He said a plan to reduce the number of years of contributions required for a public pension to 10 from 25 would greatly lower the number of elderly people without pensions and encourage more people to pay premiums.
Asked about the prospects for a bill aimed at legalizing casinos in Japan -- the legislation is backed by a group of lawmakers including senior LDP members -- Yamaguchi said there were still voices of caution in his party on the issue.
A former lawyer, Yamaguchi has served as leader of Komeito since 2009 and was elected to a fifth term last month.
Before it's here, it's on the Bloomberg Terminal.
LEARN MORE