markets
India's Patel Leads New Panel to Cut Key Rate to 5-Year Low
By
Benchmark rate reduced to 6.25%, lowest since January 2011

Patel offers no indication today's move will be the last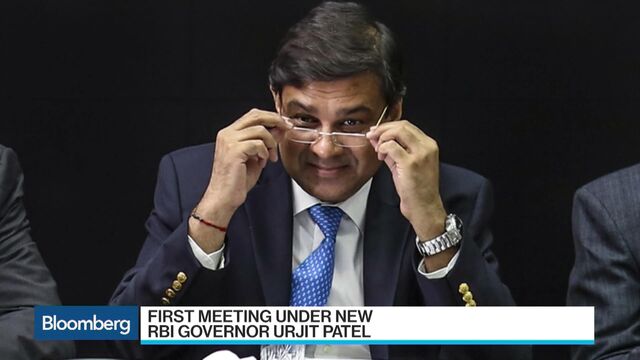 India's new central bank Governor Urjit Patel led the country's new Monetary Policy Committee to cut interest rates for the first time since April, against the forecast of most private economists.
Patel began his tenure with a quarter percentage point reduction in the benchmark rate, to 6.25 percent, bringing it to the lowest level in more than five years. The Reserve Bank of India's new MPC -- a signature initiative of Patel's predecessor Raghuram Rajan -- voted 6-0 in favor of the move, after "frank, often intense, but always friendly" discussion, Patel said.

The RBI's new leader, who previously had a reputation as a hawk on inflation, cited a weakening global growth outlook and uncertainty about the U.S. presidential election at the start of a 15 minute press briefing on the decision. Lower borrowing costs will be welcomed by members of Prime Minister Narendra Modi's administration, who have highlighted the view that inflation pressures are limited in the world's fastest-growing major economy.
Tuesday's move was predicted by 16 of 39 economists in a Bloomberg survey, with one seeing a cut to 6 percent and the rest no change. The rupee rose 0.2 percent to 66.46 per dollar in Mumbai, and the Sensex index of stocks was 0.3 percent higher. State Bank of India, a lender saddled with non-performing assets, outperformed with a 1.7 percent rise after Patel urged "firmness but pragmatism" in bad-debt clean-up efforts.
"Today's decision implies a slight dovish bias among the new Monetary Policy Committee, which contrasts with the more hawkish approach of the previous governor, who had sole decision-making power over policy rates," Saravana Kumar, chief investment officer of LIC Mutual Fund. "This suggests that we could see further modest loosening over the coming months. But the scope for aggressive rate cuts is limited."
Key points from the RBI's research department:
See inflation at 5.3 percent in January-March 2017 from 5 percent the previous quarter; this includes the impact of pay increases for government employees and should ease to 4.5 percent a year later
A potential increase in house rent allowances for civil servants risks spurring price pressures; concerns also stem from uncertainty surrounding the U.S. elections, crude prices and global demand
Still see a 7.6 percent increase in gross value added -- a key input of gross domestic product -- for the year through March 2017, picking up to 7.9 percent the next year


India's expansion slowed in the three months through June amid anemic investment and weakening consumption, complicating the outlook for Modi, who's facing as many as seven state elections next year.
The country is also in the midst of geopolitical tensions after saying last week it attacked terrorist camps over the border in Pakistan, sending stocks and the rupee to their steepest drop in three months.
India in August cemented an inflation target of 4 percent through 2021, while allowing it to fluctuate in a 2 percent to 6 percent band. Rajan had aimed to reach 4 percent by March 2018.
"While the statement has not spelled out the timeline for attaining the 4 percent mid-point, the initial indications point to some flexibility around the time period for attainment of the mid-point," said Rajeev Radhakrishnan, head of fixed income at SBI Mutual Fund, India's fastest growing fund.
— With assistance by Unni Krishnan
(
Updates with markets, analysts' comments.
)
Before it's here, it's on the Bloomberg Terminal.
LEARN MORE