IMF Sees Political Discord as Major Risk to Weak Global Recovery
By
Tariff war would undercut long-term world growth, IMF warns

Global economy moving 'sideways,' IMF's Obstfeld says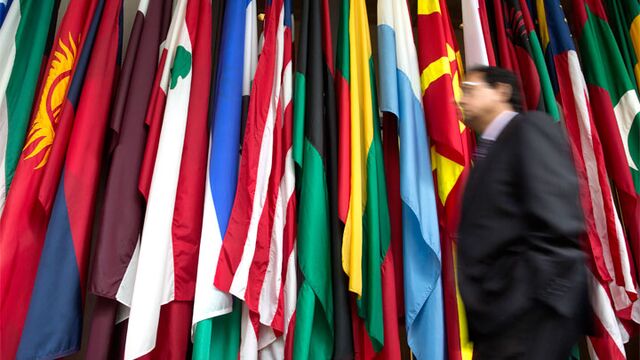 Rising political tensions over globalization are threatening to derail a world recovery already seeking a reliable growth engine, the International Monetary Fund warned.
The global economy will expand 3.1 percent this year before accelerating to 3.4 percent next year, the IMF said in the latest update to its World Economic Outlook on Tuesday. Both forecasts were unchanged from estimates made in July. Advanced economies will remain "along a disappointingly low growth path," while larger emerging markets are seen exiting recession and stabilizing, IMF chief economist Maurice Obstfeld said in prepared remarks.
The Washington-based IMF said risks remain tilted to the downside, led by the threat of political discord and protectionism. The June vote by the British people to exit the European Union, as well as the mood of the U.S. presidential election, "have highlighted a fraying consensus about the benefits of cross-border economic integration," the fund said.
The danger is that countries will engage in tit-for-tat hikes in tariffs, undermining a still-fragile recovery. In a scenario that import prices increase by 10 percent, world output would be cut by almost 2 percent in the long run, the IMF estimates.
Low Growth
"Growth has been too low for too long, and in many countries its benefits have reached too few -- with political repercussions that are likely to depress global growth further," Obstfeld said.
Slow gains for low-income earners in rich countries has spawned a "political movement that blames globalization for all woes and seeks somehow to wall off the economy from global trends rather than engage cooperatively with foreign nations," he said.
Eroding support for global trade and free markets will be high on the agenda as finance chiefs and central bankers of the fund's 189 member countries meet in Washington this week for the institution's annual meetings. It's a debate that cuts to the very core of the mission of the IMF, which was conceived during the Second World War to combat the protectionist policies that followed the Great Depression.
Trade Deal
Republican presidential nominee Donald Trump has tried to channel the frustration of blue-collar workers by blaming job losses and weak wage growth on increased trade with countries such as China and Mexico. Both he and Democratic candidate Hillary Clinton oppose a free-trade deal with Pacific nations that was signed by President Barack Obama but still needs to be approved by Congress.
The IMF's outlook depicts a world economy struggling to gain steam as its weak spots shift. "Taken as a whole, the world economy has moved sideways," Obstfeld said.
The fund upgraded its forecast for the euro area, though it cautioned that the outcome is still unclear about the U.K.'s talks with the EU on a new trade deal. IMF officials also brightened their outlook for Japan, citing the postponement of a sales-tax increase and stimulus measures announced by the government of Prime Minister Shinzo Abe.
Brighter India
The IMF continues to see India as a bright spot among emerging markets, marking up its growth forecasts for the nation both this year and next. The fund now sees a shallower contraction in Russia's output this year than predicted in July, due to a modest rise in oil prices.
China's economy will grow 6.6 percent this year, before slowing to 6.2 percent in 2017, the IMF said. Both figures were unchanged from July.
However, the fund sharply downgraded its forecast for the U.S. The world's biggest economy will grow 1.6 percent this year, down 0.6 percentage point from the projection in July, the IMF said. U.S. growth will pick up to 2.2 percent next year, compared with a forecast of 2.5 percent three months ago.
The IMF also warned of the ongoing drag from low commodity prices in Latin America and sub-Saharan Africa.
Legacy Cocktail
Obstfeld said long-term potential growth rates are now lower in all regions of the world than they were during the decade preceding the global financial crisis. Potential output continues to be depressed by a "cocktail of interacting legacies," from debt overhangs to deflationary pressures, he said.
Aside from protectionism, the IMF said risks to the world economy include stagnation in advanced economies, a turbulent slowdown in China and a tightening of credit in emerging markets.
It's essential that policy makers adopt a comprehensive approach that supplements overstretched monetary policy with fiscal measures and structural reforms, the IMF said.
Before it's here, it's on the Bloomberg Terminal.
LEARN MORE