IMF Lifts Forecast for U.K. Economy in 2016 Despite Brexit
by
IMF sees economic growth 1.8% this year rather than 1.7%

Lender still sees medium-term growth weaker after Brexit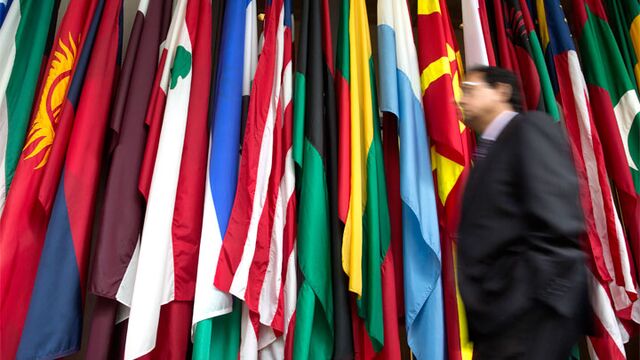 The International Monetary Fund became the latest forecaster to upgrade its outlook for the U.K. this year after the economy proved more resilient than expected following the vote to leave the European Union.
In its World Economic Outlook published Tuesday, the Washington-based lender predicted growth of 1.8 percent instead of the 1.7 percent projected in July. That would make it the fastest-growing economy in the Group of Seven. The IMF cut its 2017 forecast to 1.1 percent from 1.3 percent and noted its estimates depended on smooth negotiations with the EU.
"Slower growth is expected since the referendum as uncertainty in the aftermath of the Brexit vote weighs on firms' investment and hiring decisions and consumers' purchases of durable goods and housing," it said.
Pro-Brexit campaigners accused the IMF of scaremongering ahead of the June 23 referendum. Managing Director Christine Lagarde had said "the economic risks of leaving are firmly to the downside" and warned the U.K. could slide into recession.
Reports since then have suggested the economy is holding firm, with IHS Markit reporting on Monday that British factories had their best month in more than two years in September.
'Unfolding Event'
The Bank of England, the OECD, Morgan Stanley and Goldman Sachs Group Inc. are among those to have peeled back their pre-vote predictions of an economic shock.
The IMF nevertheless said it had cut its medium-term growth forecast to 1.9 percent from 2.1 percent in April on the assumption that the economy's ability to prosper will be impinged by weaker trade, migration and capital flows.
"Brexit is very much an unfolding event -- the long-term shape of relations between the United Kingdom and the European Union, and the extent to which their mutual trade and financial flows will be curtailed, will likely become clear only after several years," the IMF said.
Before it's here, it's on the Bloomberg Terminal.
LEARN MORE