Illinois Renegotiates Derivative Deals as Rating Approaches Junk
By
Barclays, BofA, JPMorgan, Deutsche Bank lower rating triggers

Under new terms, state must stay above junk to avoid payout
Illinois renegotiated interest-rate derivative contracts with banks to avoid having to pay about $150 million of fees if its credit rating gets cut closer to junk.
The step comes after S&P Global Ratings and Moody's Investors Service lowered Illinois to the second-lowest investment grade, below any other U.S. state. Without the agreement, another downgrade could have allowed Barclays Bank Plc, Bank of America Corp., JPMorgan Chase & Co. and Deutsche Bank AG to demand multi-million fees to break the $600 million worth of contracts, which the state entered into more than a decade ago to protect against rising interest bills on variable-rate bonds.
The changes, which were finalized on Sept. 28 after months of negotiation, will allow Illinois to avoid the fees as long as it's not dropped below investment grade, according to bond documents. Chicago, the state's biggest city, was forced to refinance derivative-laden debt deals after its rating was downgraded to junk by Moody's last year.
"It's a good thing that they were able to do that without getting hit with a termination event, which can put strain on liquidity and cash," said Adam Buchanan, senior vice president of sales and trading at Ziegler, a broker-dealer in Chicago. "It's a positive thing."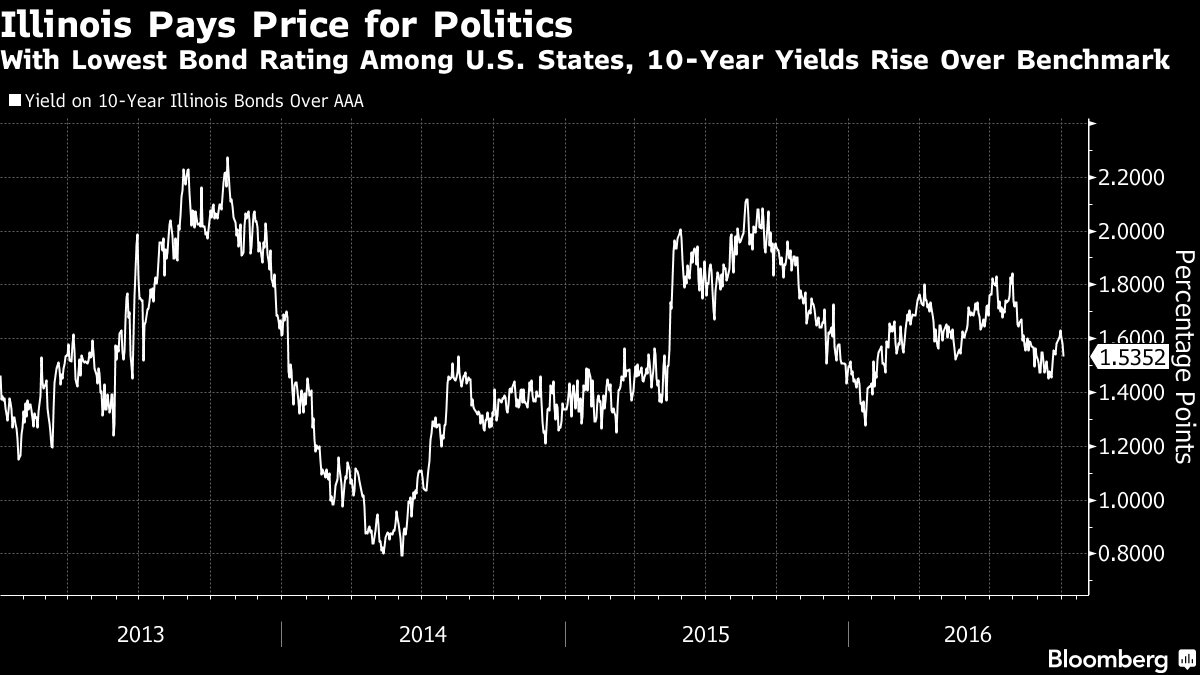 Illinois is straining under a more than $100 billion shortfall in its pension system that has diminished its standing on Wall Street. The state has been operating without a full-year budget since July 1, 2015 because of political discord between Rauner and the Democrat-controlled legislature, and the current spending plan is set to last for only about half the fiscal year. As a result, the government is on track to spend about $7.8 billion more than it brings in, according to the Commission on Government Forecasting and Accountability.
S&P lowered its rating on Illinois to BBB on Sept. 30 and has a negative outlook, signaling further downgrades are possible. Moody's rates Illinois an equivalent Baa2.
Under the new terms, a termination event -- which would force the state to pay the penalties if banks decide to break off the deals -- would occur for swaps with Barclays, Bank of America and JPMorgan if Moody's or S&P drop the state to junk. Illinois would have to pay Deutsche Bank if ratings drop three steps to below Ba1 for Moody's or below BB+ for S&P. Deutsche Bank's swap is the largest, accounting for about $99 million of the potential fees.
Until the 2008 financial crisis, state and local governments frequently purchased interest-rate swaps when they sold variable-rate bonds. The tactic was intended to prevent governments from being hit with rising expenses if interest rates increased, though the contracts also exposed them to risks that proved costly when credit markets seized up.
"Governor Rauner inherited these swaps and letters of credit, which have been hanging over the heads of Illinois taxpayers for years," Catherine Kelly, a spokeswoman for Governor Bruce Rauner, said in an e-mailed statement on Tuesday. She didn't disclose the terms of the deal, which the statement described as "more favorable."
Before it's here, it's on the Bloomberg Terminal.
LEARN MORE