HSBC's Major Sees at Least Five More Years of Low Bond Yields
By and
Bull market in government bonds 'is not over,' HSBC says

Major has stood out by correctly predicing lower yields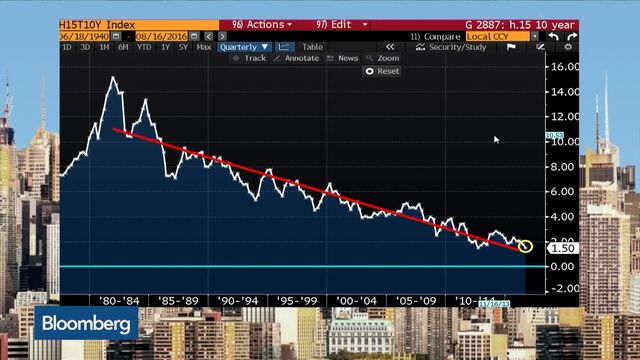 U.S. Treasury bears wagering on a sustained selloff have a long time to wait, if HSBC Holdings Plc's Steven Major is to be believed.
Major, who has stood out among analysts by correctly predicting a slide in U.S. yields, wrote in a client note Tuesday that yields will be no higher in five years' time than they are today, citing the prospect of continued relatively loose monetary policy.

"Yields have been falling for 30 years, constantly frustrating calls for mean-reversion," wrote Major, head of fixed-income research at Europe's largest bank. "This bull market is not over in our view. Moreover, bigger central bank balance sheets are likely to be a permanent feature."
Treasuries have returned 5 percent this year, according to the Bloomberg World Bond Indexes, even as the Federal Reserve moves closer to boosting rates for the second time since the financial crisis. Bond-buying programs from central banks in Europe, the U.K. and Japan have buoyed other markets, with Portugal the only sovereign tracked by the indexes to record a loss.
Benchmark U.S. 10-year yields rose two basis points, or 0.02 percentage point, to 1.64 percent as of 9:59 a.m in New York, according to Bloomberg Bond Trader data. The yield, which was as high as 3.05 percent in 2014 and reached a record-low 1.318 percent in July, will fall to 1.35 percent by the end of 2017, according to HSBC.
"History is no guide to the future but I think we've got to understand that the structural backdrop to markets is getting worse, it's not getting better," Major said in a Bloomberg Television interview Tuesday. "We all understand the structural backdrop, so why are people thinking that the problems will suddenly go away? It's quite unlikely."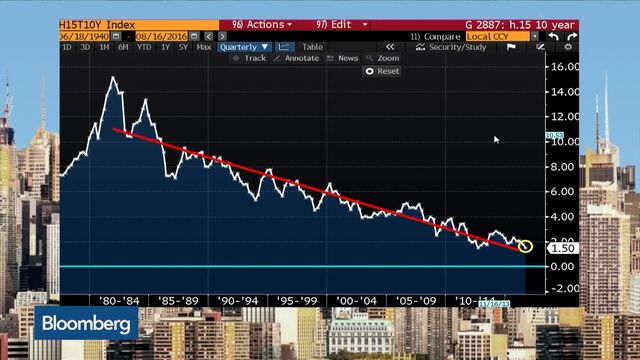 Major's outlook for low yields comes even as Fed officials argue that U.S. interest rates should be higher. Fed Bank of Richmond President Jeffrey Lacker, who dissented twice last year in favor of raising rates, urged the central bank to hike to head off inflation in a speech Tuesday in Charleston, West Virginia.
"While inflation pressures may seem a distant and theoretical concern right now, prudent preemptive action can help us avoid the hard-to-predict emergence of a situation that requires more drastic action after the fact," said Lacker, who doesn't vote on monetary policy this year. The policy rate should be at least 1.5 percent by now, he said.
Traders assign about a 61 percent probability of a hike by December, according to futures data compiled by Bloomberg. The calculation is based on the assumption the Fed's target trades at the middle of the new range after the central bank's next boost.