Art
How Dealers Set Up Multimillion-Dollar Art Sales
Don't believe the hype. Convincing collectors to buy art isn't easy.
by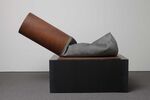 By the end of Wednesday's VIP day at London's Frieze Art Fair, collectors will have spent hundreds of millions of dollars on art that's been shipped in from around the world. "The first day is by far the most significant day," said Amalia Dayan, a co-founder of Luxembourg and Dayan, a gallery with London and New York locations. "The majority of the works we sell will be sold in the first 24 hours."
While that aggressively short timeline implies that very wealthy people are impetuously spending enormous sums of money on a whim, the fair itself is actually the final stage of a highly choreographed, carefully structured, months-long buildup. Using Luxembourg and Dayan as a case study, the following explains how dealers prepare for their multimillion-dollar sales.
First, They Figure Out What to Sell ...

Luxembourg and Dayan is a secondary-market-only gallery, which means that all the art it sells has been sold at least once before. This has its upsides—the artists sold by Luxembourg and Dayan are proven names with established collector bases— but it also means that there's constant pressure to find quality artwork in private hands—and to convince those private hands to part with it. "The amount of work to compile work for an art fair or gallery is huge," said Daniella Luxembourg, the gallery's other co-founder. "There is a lot of thought and research and digging in order to bring these works together." (Everything the gallery brings to Frieze is on consignment, which means that the gallery never owns artworks it's selling; it takes an undisclosed percentage of the sale as commission.)
One way the gallery persuades owners to part with art— and other collectors to buy it— is to create a narrative theme for the booth. This year, Luxembourg & Dayan's offering is a riff on the seminal 1996 show  L'Informe: mode d'emploi, at the Centre Pompidou in Paris, which re-examined and reframed 50 years of modernist and contemporary art. "The whole art world was following that exhibition," said Luxembourg. "So we decided to continue it," gathering works by artists included in the exhibition or by artists who grappled with some of the show's themes.
... Next, They Guess What the Art Can Sell For
Many of the booth's artworks have been in private hands for years. Not only does that imply that they might be lacking documentation (certificates of authenticity, export licenses, and so forth) which the gallery has to acquire in advance of the fair, it also means that owners might not have a clear sense of what the art can fetch in the current market. "We negotiate the price with the consignors based on the transaction value of similar things that were sold," explained Luxembourg. Prices at this year's booth range from $80,000 to about $4 million, and they include a lead-and-steel sculpture of a crushed cigarette by Claes Oldenburg (priced at $2 million), a painting by Jean Dubuffet ($1.5 million), and what Luxembourg describes as two "major" works by the Arte Povera artist Alberto Burri (one priced at $2 million, the second at $3 million).

... and Then Figure Out Who Can Buy It
"Everything is being offered to everyone for every show, for every art fair, from every auction house," said Dayan. In other words, there's a lot of stuff—a lot of similar stuff—hitting the market, often at the same time. In an effort to set itself apart, the gallery waits until a few weeks before the fair opens, then sends printed invites to its stall to a few thousand people. Next, the directors make personal overtures to around 40 collectors and art advisers. "After dozens of years of doing business, we know who the people who might be interested" in the particular art it has in a given year, Luxembourg said.
Thus Begins the Back and Forth ...
About half the people the directors personally contact will respond, at which point "we begin a dialogue," said Dayan. "Some will be interested in specific works, some will just say: 'Great, we can't wait to see it.'" Depending on the level of collector enthusiasm, the gallery might then send more detailed information such as condition reports, provenance information, and other literature about the artwork or artist.
When a collector expresses direct, aggressive interest in a work, the dealers might set it aside for the first hour or two of the fair— that way, the collector can come in with a friend, spouse, or adviser and then decide. On other, rarer occasions, the collector will seek to buy it in advance, via an agreement called a "pre-sale." "We haven't pre-sold any of these works yet [this year], but we might," Dayan said. "A few are already on hold."
... and Then, Finally, the Fair Opens
By the time collectors arrive at Luxembourg and Dayan's booth in the Frieze Masters section, they will already know what's in it, how much everything costs, and whether or not a work has been pre-sold. Seeing the artwork in person is the final step that helps the gallery close the deal. "They might come in and be surprised by the piece," Luxembourg said. "Nothing you see in pictures resembles what it's like in reality."
In total, Dayan said, the gallery hopes to sell "about half" of the 23 objects it's bringing to Frieze, and it considers the possibility of selling one of the works to an unknown collector "extremely rare."
Still, "so much is unknown," added Luxembourg. "You never know for certain until the fair."
Before it's here, it's on the Bloomberg Terminal.
LEARN MORE